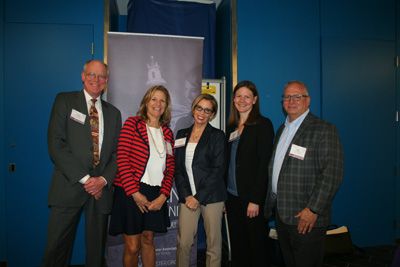 Young Professional Board members Christina Ferraiolo and Claire Monagan
Theresa McIntyre (LS Brianna's mom), LS Brianna, Big Sister of the Year Danielle Drayton
Suzanne Fay Glynn, who retired from the Board after more than 20 years of service, and President and CEO Deb Re
Board Officers: Tom Barrette, Mariann Youniss, Deb Daccord, Christina Lewis, Joe Realmuto
Manager of Enrollment & Matching Emily Cutts and Coordinator of Site-Based Mentoring Gaby Caballero, who won our Above & Beyond Staff Award
Manager of Site-Based Mentoring Christine Berardino, Manager or Match Support Amy Scafidi, and Director of Match Support Bethany Queior
LS Brianna with her Big Sister of the Year Danielle Drayton
Diversity Council member, Big Sister, and retiring Board member Amanda Martinez with President and CEO Deb Re
Enrollment & Match Support Specialist Crystal Kim, Enrollment & Match Support Specialist KerriAnne Sejour, and Coordinator of Site-Based Mentoring Gaby Caballero
Diversity Council President Evelyn Reyes Beato and Alumnae Association member Melissa Cazeau
Development Specialist Danielle Foley, Manager of Recruitment Mofei Xu, Manager of Human Resources & Administration Caitlin Terry
Coordinator of Enrollment & Matching Andria Dunn, who won our Above & Beyond Staff Award, and Manager of Enrollment & Matching Tashu Chu
Boston City Councilor-at-Large Ayanna Pressley
Boston City Councilor-at-Large Ayanna Pressley and LS Brianna
Young Professional Board Vice President Chris Nabhan and Recruitment Chair Jen Smith
Young Professional Board members Jessica Young, Joanna Krisel, Christina Ferraiolo, Claire Monagan, and Courtney Scott
On Monday, May 8, Big Sister Boston held our 2017 Annual Meeting at the Bruce C. Bolling Municipal Building in Roxbury, a neighborhood in which 23% of the girls we serve are living. Members of our Board of Directors, Advisory Board, Young Professional Board, Diversity Council, and staff attended the annual celebration of the past year's achievements and a look ahead at how our agency will grow and thrive in 2017.
The Annual Meeting marked Board transitions that included appreciation and a fond farewell for members Amanda Martinez, who is also a Big Sister and member of our Diversity Council, and Suzanne Fay Glynn, who has been actively engaged on our Board for more than 20 years. Suzanne transitioned to our Advisory Board.  Her daughter, Caitlin, sits on our Young Professional Board. The following slate of officers were nominated and approved at the annual meeting: Deborah Daccord of Mintz, Levin, Cohn, Ferris, Glovsky and Popeo, PC as Chair; Wellesley resident, Mariann Youniss, as Vice Chair; Joe Realmuto of PricewaterhouseCoopers, LLP as Treasurer; and Christina Lewis of Hinckley Allen as Clerk.
Our Young Professional Board also welcomed new members: Christina Ferraiolo of Mass General Hospital, Joanna Kreisel of UP Education Network, Claire Monagan of Lippincott, Violet Rukambeiya of State Street Corporation, Courtney Scott of Choate, Hall & Steward, and Jessica Young of Vistaprint.
Boston City Councilor-at-Large Ayanna Pressley gave an impassioned speech about the need for gender-specific mentoring as it relates to developing healthy communities. A former Big Sister herself, Councilor Pressley invigorated and inspired the group with her remarks on lifting girls up. "We often speak about self-esteem as if it is inevitable, but it is earned. Self-esteem is muscle built over time," said Councilor Pressley. "Bigs help Littles to build that muscle. Big Sister doesn't make our girls great, it reminds them that they are."
Finally, we were proud to honor our Big Sister of the Year, Danielle Drayton, who has been matched with Little Sister Brianna for nearly three years. Find out what makes Danielle our honoree in our digital 2016 Annual Report below. We also recognized two staff members with our Above & Beyond Award for their commitment to our mission and exceeding expectations of their roles. This year's honorees were Andria Dunn, Coordinator of Enrollment & Matching, who has been with Big Sister Boston for 14 years, and Gaby Caballero, Coordinator of Site-Based Mentoring, who has been with our organization for more than three years.
Read about our achievements and outcomes from the past year in our 2016 Annual Report.