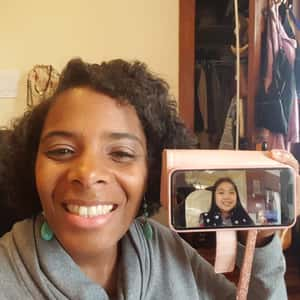 Having interned in Big Sister Boston's Site-Based Mentoring program while earning her graduate degree in social work, Cleo was no stranger to mentoring girls at school. "I had a great experience as an intern. I got to learn about the importance of mentoring girls, especially at younger ages," said Cleo. Ultimately, Cleo went on to a career in workforce development, assisting adults in finding jobs, but she missed working with kids. She decided that becoming a Big Sister would connect her back to kids in her community and an organization that "has a very fond place in my heart."
Cleo chose the Site-Based Mentoring program because meeting with a Little Sister at her school during the week was the best fit her schedule and gave her a break from being with adults everyday. She was matched with Little Sister Tiffany, then eight years-old, at the Josiah Quincy Elementary School in Boston. They first met in January 2020…barely two months before schools were shut down due to the pandemic.
When the schools did shut down, Big Sister Cleo took it in stride. Like so many of us in 2020, she pivoted. "There was a little bit of uncertainty at first about how this will work, how we will keep going," said Cleo, but through the help of their Match Support Specialist, Cleo and Tiffany began meeting virtually.
Given the shutdowns, followed by restrictions on visitors in schools when the students returned, nearly all of Cleo and Tiffany's relationship has been virtual. When she was unable to go to school, Tiffany said she was "relieved" that she still got to see Cleo over FaceTime and Google hangouts. She didn't like not always getting to see her school friends who were in other classes because of the virtual class model. Over the phone and the computer, they tried many new and different activities together; some were hits, like bracelet making and online games of Pictionary and hangman. Other activities were misses, like trying to stream an animated movie about ants over a slow Internet connection or learning how to knit.
Through it all, they continued to meet regularly. They often started their virtual visits with activities to give Tiffany time to get comfortable with her new Big Sister. The conversation would come later and stem from the activities they did together. Tiffany appreciated that her Big Sister would ask her "daily questions" when they met: questions about how Tiffany's day was, how school was going, and about her family and friends. Tiffany said that with friends her own age, the conversation was mostly geared toward online games. Cleo began to notice that after time, Tiffany would start their visits with conversation and became much more open and talkative with her. One time, Tiffany made a "decision wheel" that she brought to her virtual visit with Cleo. They used it often to decide what activities they would do that day.
When asked what makes her Big Sister great, Tiffany gives a simple, but meaningful answer: "Because she spends time with me." Now that Cleo is able to visit Tiffany in-person at her school again, she plans to do spend as much time as she can doing just that. Cleo, too, appreciates their time together: "Being a Big Sister is a great experience," she said. "If you're in a world with mostly adults, it's nice to be able to have a young person in your life so that you can see the world through their eyes and just spend time with them."