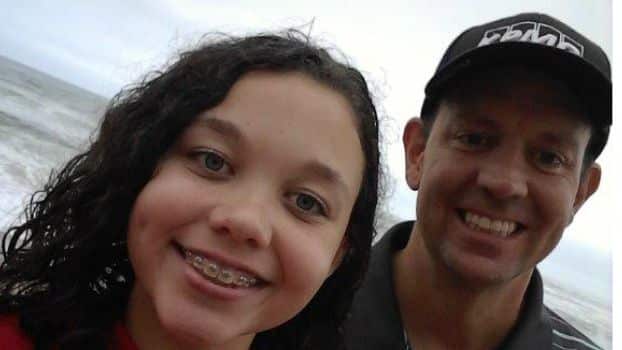 While 46% of our Little Sisters are being raised by single mothers, 2% are living in a household with a solo dad. Jason is a single parent who is raising 11 year-old Little Sister Mackenzie, who has been matched with Big Sister Lisa Taranto since 2017.
What is most challenging and what is most rewarding about raising a daughter?

Being a single dad, the most difficult part is trying to put myself in my daughter's shoes when I was her age. It's not easy to have the female point of view or understand the growing pains she is going through. The most rewarding is seeing how compassionate she is towards her friends and family.

How did you hear about Big Sister Boston and what made you decide to enroll Mackenzie?

One of my closest friends of almost 40 years, Laura Nardone, introduced us to Big Sister Boston and felt Mackenzie would be a perfect candidate for the program.

What do you think makes Big Sister Lisa a good match for Mackenzie? 

Lisa is an all-around caring person, amazing, intelligent, and insightful. She has such a natural, calming, positive parenting influence on both me and Mackenzie.  I'm not sure exactly how her sons phrase it, but they do say something like "Lisa is full of useful information." She has a natural knack to figure things out and explain them to Mackenzie in layman's terms, so she understands.

How have you seen Mackenzie change or grow since being matched with Lisa?   

Her academics are off the charts, high honors in her classes, and I know Lisa has a lot to do with her success.  Lisa has also introduced and exposed her to hobbies like sewing, arts, crafts and numerous other things I would not have a clue to but would still try teaching.

You saw Mackenzie and Lisa walk the runway in our Project Role Model fashion show this year. What was that like for you? 

When they were being introduced I began to cry (tears of joy).  It was wonderful. Lisa's husband, Tom, and their son, Alex, along with some special co-workers and of course, Laura Nardone, were there to share such an amazing night. We all screamed to Lisa and Kenzie and have some great photos and videos that have been shared repeatedly.

What's been your proudest moment as a dad?   

Raising both Kenzie and her brother Lennox single-handedly, pretty much since they were both born. They have been resilient in the face of the harsh realities of life.

Why would you encourage other parents to enroll their daughters with Big Sister Boston? 

It has done wonders for my daughter's confidence and giving her girl power. I strongly recommend that all girls become or ask for a Big Sister.