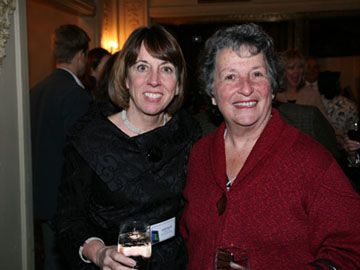 The reviews are in and the critics agree…Big in Boston was a hit! The evening of November 13 entertained, informed, and inspired an audience of more than 400 guests at the Boston Opera House. It also raised $575,000—a record amount—for Big Sister Association of Greater Boston's mentoring programs for girls!
An all-star cast included The Honorable Mayor Thomas Menino; Co-chairs Jack Connors, Jr. and Karen Kaplan; Big Sister's Board President, Tim O'Brien; Big Sister's Chief Executive Officer, Deborah Re; and the stars of the show, our Big and Little Sisters. Big Sister Charmain Jackman and her Little Sister, Tichina—who have been matched for three and a half years—welcomed the audience, followed shortly by Little Sister Kaitlyn. Kaitlyn's Big Sister, Elena Proakis Ellis, along with Big Sisters April Cook, Amanda Song, and Kate Potter, were recognized that evening as our Big Sisters of the Year. From the stage, Little Sister Kaitlyn told guests what makes her friendship with her Big Sister so special, "When I first met Elena, I liked her. Now I can honestly say, I don't just like her, I love her…I want to thank her for always being my friend and showing me that she will always be there for me."
Those in attendance also enjoyed a spectacular dance routine by some of our Big and Little Sisters and performers from the Stajez Dance Troupe. Under the direction of Stajez Founder and Executive Director, Sophia Haynes-Cardwell, our Big and Little Sister matches spent more than a month learning a hip hop-influenced dance routine that they debuted that evening. Their hard work paid off with a flawless, high-energy performance and a standing ovation from the audience.
To wrap up the show, former Little Sister Donna Thach took the stage. Now 26 years old, Donna first met her Big Sister Jane Sander when she was 12. Donna and her family emigrated from Vietnam to Quincy, Massachusetts when she was just six years old. Though her parents had run a successful business back in Vietnam, they struggled to find decent-paying jobs in the United States. Donna grew up in a home that was supportive and loving, but where English was not spoken and connecting with the American culture was difficult. Her Big Sister Jane formed a bridge between the world Donna was coming from and the one in which she now lived. Their friendship grew into a lifelong bond, and Donna and Jane, who is now 85 years old and was in attendance at Big in Boston, remain close friends. 
"Several years ago I tried to explain to my mother the role that Jane has played in my life as my Big Sister. I don't know if she understood because the word 'mentor' did not translate. For me Jane has been so many things—a mentor, yes, but also a teacher, a guide, a support, a friend, a confidant, and an ally, and she will always be my Big Sister," Donna told the audience. "Other Little Sisters may share my story, many have their own, but the profound impact of having a Big Sister is felt by all of us. No matter what her story is, every girl deserves the friendship, guidance, and attention of a Big Sister."
"Our Little Sisters, like Donna and Kaitlyn, were undoubtedly the stars of the show," said Deborah Re. "They made it clear how their special friendships with their Big Sisters are having a positive impact on their lives; they made it clear why we all need to make mentoring matter."
When the curtain was raised at the end of the program, guests were invited on stage for a delicious buffet dinner and dancing to the sounds of the all-female band, Zili Misik.  It was a night to remember thanks to our Co-chairs and Host Committee, and the generosity of those individuals and corporations who made Big in Boston possible. Big Sister would like to extend a special thank you to our Box Seat, Orchestra, and Mezzanine level sponsors.    
 
We would also like to thank all those who attended and we look forward to seeing you again next year at an even bigger and better Big in Boston!
The Producers: 
Co-Chairs
Jack Connors, The Connors Family Office
Karen Kaplan, Hill Holliday
The Directors:
Honorary Host Committee
The Honorable Thomas M. Menino
Treasurer Timothy P. Cahill, Office of the State Treasurer
Attorney General Martha Coakley, Commonwealth of Massachusetts
 
Host Committee
Max Bardeen, UBS Financial Services, Inc.
Jacqui Budd    
Terri Campbell, Liberty Mutual
Mary Joe Clark, Baby Talk and Parenting Magazine
Elizabeth Graham Cook        
Bob Davis, Highland Capital Partners
Fay Donohue, Delta Dental of Massachusetts
Rob Egan, Tufts Health Plan
Suzanne Fay Glynn, Glynn Law Offices
Bill Fine, WCVB-TV Channel 5
John Fish, Suffolk Construction Company, Inc.
Carol Fulp, John Hancock Financial Services, Inc.
Bob Gallery, Bank of America
Paul Guzzi, Greater Boston Chamber of Commerce
John Hamill, Sovereign Bank
Marian Heard, Oxen Hill Partners
Joanne Jaxtimer, Bank of New York Mellon
Julie Kahn, Entercom Boston
Bill Kennedy, Nutter McClellan & Fish LLP
Melissa MacDonnell, Liberty Mutual
Essence McGill-Arzu, Foley Hoag LLP
Carol McKean, Carol McKean Events
Sharon McNally, The Connors Family Office
Mary Jo Meisner, The Boston Foundation
Cathy Minehan, Arlington Advisory Partners
Dolores Mitchell, Group Insurance Commission
Allyce Najimy, Foundation To Be Named Later
Sabrina Nicholson
Tim O'Brien, Blue Cross Blue Shield of Massachusetts
Lynne O'Connor, Lippincott
Steve Pagliuca, Bain Capital LLC
Regina Pisa, Goodwin Procter LLP
Janet Porter, Dana-Farber Cancer Institute
Don Rodman, Rodman Ford, Lincoln-Mercury
Lisa Scannell
Bill Schlag, Hilb, Rogal & Hobbs
Fredi Shonkoff, Blue Cross Blue Shield of Massachusetts
Micho Spring, Weber Shandwick Worldwide
Big in Boston Sponsors:
BOX SEAT SPONSORS: $25,000
ORCHESTRA SPONSORS: $10,000-$24,999
Bank of New York Mellon
Covidien
CVS Caremark
Dana Farber Cancer Institute
Delta Dental
John Hancock Financial Services
Morgan Stanley
Partners Healthcare
PricewaterhouseCoopers
Shields MRI
Suffolk Construction
Thorbahn
Yozell Associates
MEZZANINE SPONSORS: $5,000-$9,999
Bain Capital
Citibank
Deloitte
Digitas
Foundation To Be Named Later
Lippincott
 Mercer Human Resources
MFS Investment Management
Raytheon
Rodman Lincoln Mercury
Savers, Inc.
Sovereign Bank
State Street Corporation
UBS Financial
Valet Park of New England