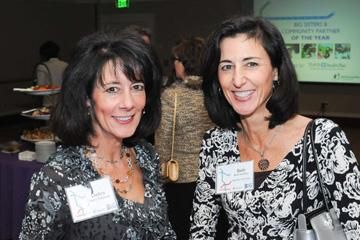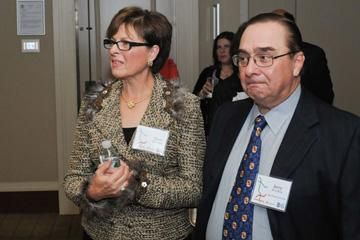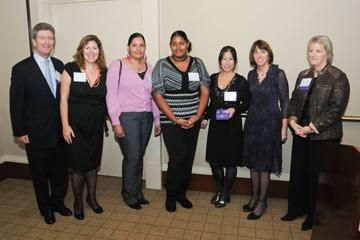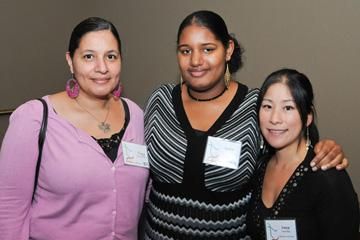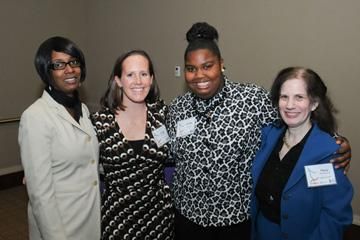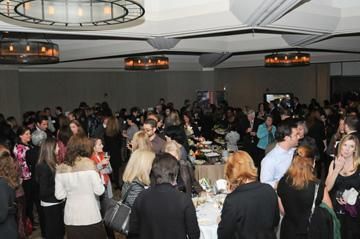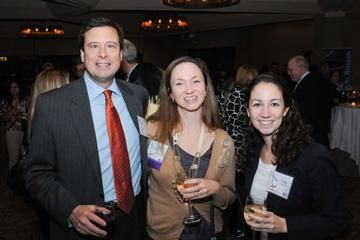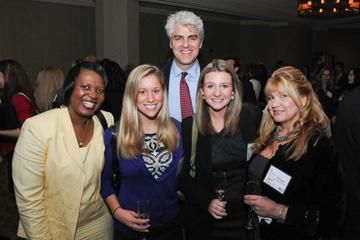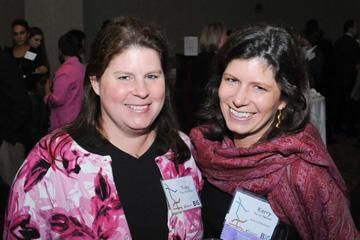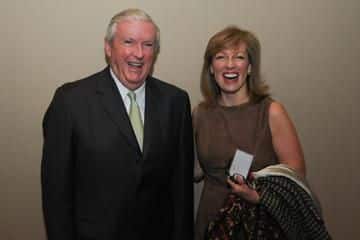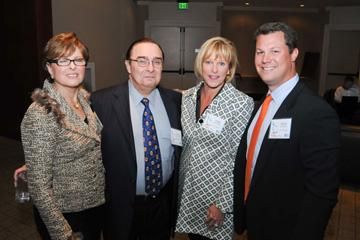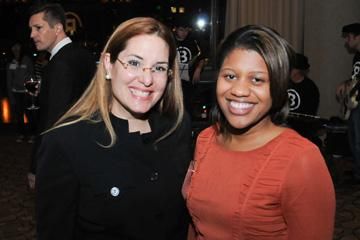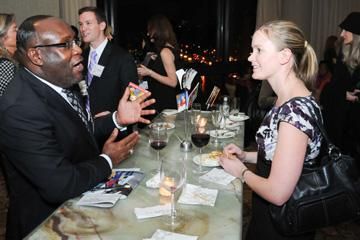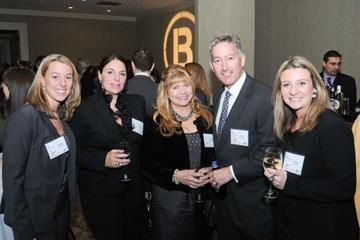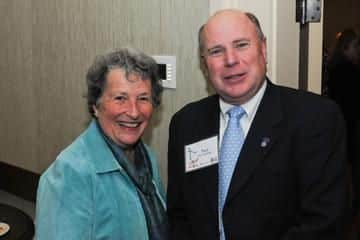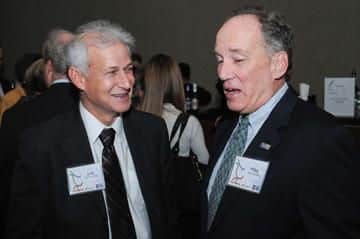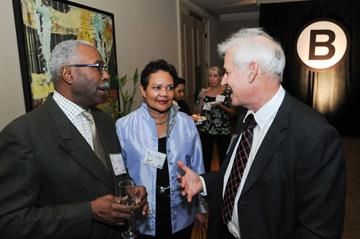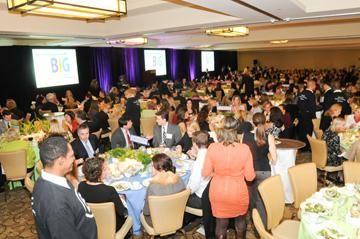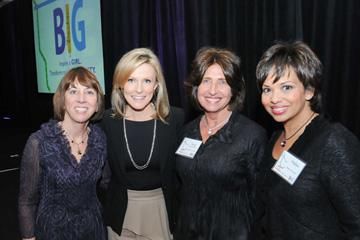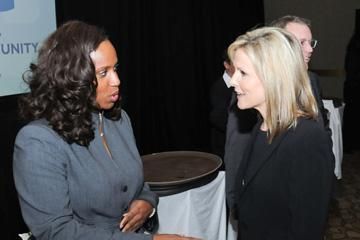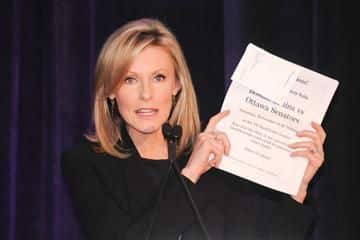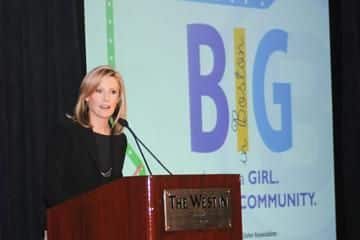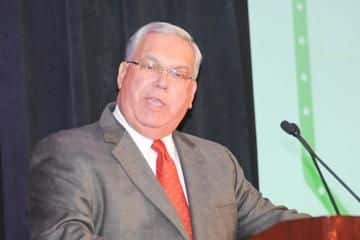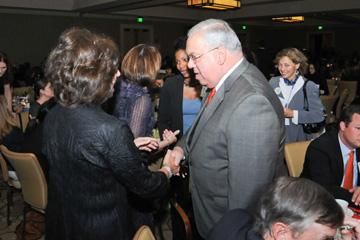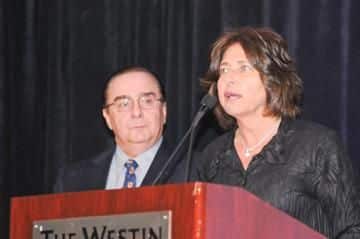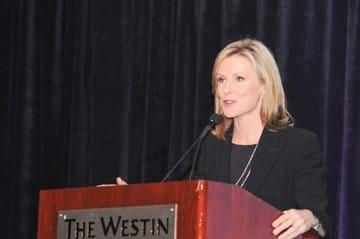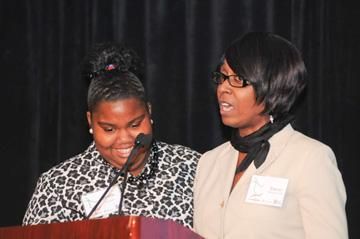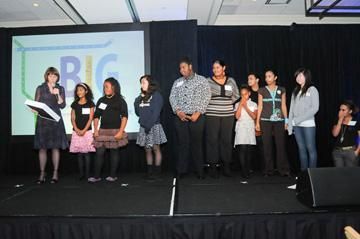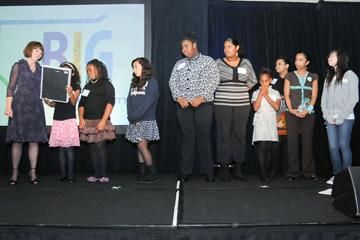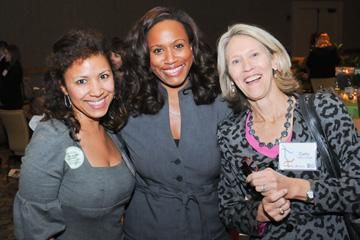 Attention passengers: A girl's future is now approaching.  This refrain rang out through the evening on Tuesday, November 9, at our annual Big in Boston celebration. Thanks to the more than 450 guests gathered at The Westin Copley Place Boston and Big in Boston's corporate sponsors, we raised more than $500,000 in support of Big Sister's mentoring programs for girls.
The night glittered with the sights and sounds of the T and the voices of those whose lives have been transformed by a Big Sister.  Street musicians, images of trains racing by, and live announcements from Chief Paul MacMillan of the MBTA Transit Police evoked the daily ritual of many Bostonians. Guests dined in a ballroom where event guru Bryan Rafanelli made the familiar setting of a train station come alive, right down to the Charlie ticket napkin rings.  Three ambitious Little Sisters, beaming at the Big Sisters by their side, opened the program by announcing what they plan to be when they are "big" in Boston: a physicist, an actress, and a vet. A man who truly is "big" in Boston then took the stage: Mayor Menino.  The Mayor addressed the challenges facing girls today and lauded the Big Sisters and those who support us for being a key part of the solution.
As the evening progressed, guests heard from those who have been directly affected by our work.  The first was Alyson Tayetto, a former Little Sister, who is now 22 years old and earning her Master's degree in psychology. She is the first in her family to attend and graduate from college.  She spoke about the isolation she felt as a girl from Roxbury attending school in Lexington through the Metco program. Her school counselor recommended a Big Sister to help Alyson gain confidence and lessen the frustration and anger she felt at school. In 1998, Alyson was matched with Big Sister Susan Hook. "My Big Sister simply let me be me. Instead of being passive and shy, I became confident. Instead of being angry and frustrated, I became happy," said Alyson. Among those listening to her speak was Susan Hook herself, who flew to Boston from Florida to support her former Little Sister!
Alyson's inspiring story was followed by Little Sister Janelle and her mother, Sharon, who shared a touching tribute to Janelle's Big Sister Jessica. Sharon spoke about raising her daughter in a neighborhood where she witnessed teenage girls getting pregnant and dropping out of school. Janelle was overweight and teased by other kids: "I was worried that if Janelle didn't feel good about herself, she wasn't going to grow up making good decisions," said Sharon. "I decided that a Big Sister could relate to Janelle on a level I just couldn't. Big Sister Association brought Jessica and my daughter together in a relationship that has been life-changing." In the five years since they were matched, Jessica has encouraged Janelle to lead a healthier, more active lifestyle. According to Janelle, Jessica never once criticized her. This non-judgmental support resulted in some serious changes for Janelle and a weight loss of 22 pounds. Sharon noted that she too became more active and started eating better as a result of her daughter's efforts.
The evening ended with the presentation of our Believe In Girls award. This year's recipient was At-Large City Councilor, Ayanna Pressley. Councilor Pressley was chosen in recognition of her civic leadership, advocacy on behalf of women and girls, support of mentoring, and the care and guidance she offers her own Little Sister of nearly one year, Arianna.  She stressed: "In order for girls to be it, they must first see it."
Many thanks are in order to those who made Big in Boston a success. We would like to thank Big in Boston co-chairs, Jerry Rossi of The TJX Companies, Inc. and Fredi Shonkoff of Blue Cross Blue Shield of Massachusetts; to all of the evening's sponsors, particularly Holly McGrath & David Bruce, and those featured on the right; the Big in Boston host committee; and our dedicated Board of Directors. We especially want to thank all those who attended and showed their support for Greater Boston's girls. It is through your generosity that we are able to transform our community by inspiring one girl at a time. We look forward to seeing you at next year's Big in Boston as we celebrate our 60th anniversary!
Big in Boston 2010 Host Committee
Honorary Host Committee
The Honorable Mayor Thomas M. Menino & Angela Menino
Jack Connors, Jr.
Host Committee
Beth Bardeen 
Max Bardeen, UBS Financial Services, Inc.
Christine Creelman
Jane Deery, PGR Media
Robert Egan, Tufts Health Plan
Paul Guzzi, Greater Boston Chamber of Commerce
Karen Kaplan,Hill Holliday
Bill Kennedy, Nutter McClellan & Fish LLP
Kathy Kiely, The Ad Club
Josh Kraft, Boys & Girls Clubs of Boston
Robert Lewis, Jr., The Boston Foundation
Melissa MacDonnell, Liberty Mutual Group
Holly McGrath & David Bruce, Highland Street Foundation
Sharon McNally, The Connors Family Office
Allyce Najimy, Foundation To Be Named Later
Timothy J. O'Brien, Blue Cross Blue Shield of Massachusetts
Katy O'Neil, Greater Boston Chamber of Commerce
Bryan Rafanelli, Rafanelli Events
Don Rodman, Rodman Ford
Mark Roopenian, Normandy Real Estate Partners
George A. Russell, Jr., State Street Corporation
Kimberly Steimle, Suffolk Construction Company, Inc.
Marie Turley, Boston Women's Commission
Sponsors
$50,000
Holly McGrath &
David Bruce
$35,000
$25,000
The Klarman Family
$20,000
$15,000
$10,000
 
Joseph E. Corcoran
Denise Jefferson Casper & Marc Casper
Janet Holian
$5,000+ 
Beth & Max Bardeen
BNY Mellon
Ann Marie & Richard Connolly
Delta Dental of Massachusetts
EMC Corporation
Foundation To Be Named Later
Game Show Network
PGR Media
Rafanelli Events
Raytheon Company
Joseph T. Realmuto
RINET Company, LLC
Donald E. Rodman
Suffolk Construction's Red & Blue Foundation