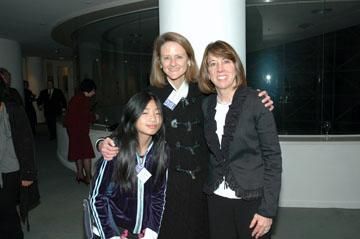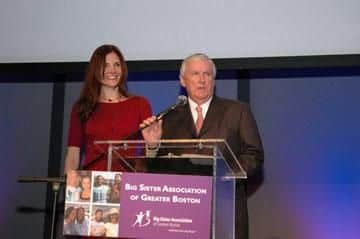 November 12 was a very BIG night, full of little moments that reminded us all why inspiring a girl has the power to transform our community.  Despite a year of economic uncertainty, the Big Sister supporters, including co-chairs Jack Connors, Jr. and Melissa M. MacDonnell, gathered at the John F. Kennedy Presidential Library and Museum for the biggest Big in Boston yet. The event raised more than $600,000 to benefit our mentoring programs for girls.
It was clear to more than 400 guests in the room that despite exceeding our fundraising goal for this event, there is still much work to be done. There are more than 300 girls currently waiting to be matched with a Big Sister. Every year there are hundreds of Big and Little Sister matches that need to be made and supported in addition to hundreds of women who need to receive the training necessary for a successful mentoring relationship.
Every aspect of our work was celebrated at Big in Boston. In a special pre-event ceremony, we recognized seven outstanding women for their commitment to the girls we serve: Big Sisters of the Year, Joy Falk; Kathleen Hewitt; Susan Magocsi; Kelly Morgan; Shannon Robinson; and Community Partner of the Year, Linda Clarke, Assistant Principal at the William Blackstone Elementary School in Boston's South End.
During the main event, guests were treated to an array of voices representing the power of mentoring. The program opened with a video featuring the wishes and hopes of girls waiting for a Big Sister, as well as prominent Bostonians—such as Liz Walker, Paul Guzzi, and Lydia Shire—reading letters written by current Little Sisters. Former Little Sister Colleen White then took the stage, telling her story of growing up in South Boston: "Things at home were almost always chaotic…it never felt like a real family because I was always on my own," Colleen said. "For all the good things in my neighborhood, there was a lot of negative too. I saw drug and alcohol abuse and constant fights, no matter where I went. It seemed like it would be really easy to slip into that world." When she first met her Big Sister, Kristen Herlihy, at age 11 Colleen was wary of this woman whom she described as "definitely not from Southie." But in time, Kristen became Colleen's rock. For the next nine years, Kristen was Colleen's best friend, confidant, and biggest supporter; and she continues to fill that role to this day. Now that Colleen is 20 years old and a proud member of the United States Army National Guard, she is in the process of becoming a Big Sister herself.
The evening continued with a delicious sit-down dinner and live music by 17 year old jazz sensation, Grace Kelly. Grace is already in her second year at Berklee College of Music, has recorded five CDs, and has performed around the world with some of the top performers in jazz. In between songs, Grace gave a special message of hope and determination to the Little Sisters gathered in the room. As a shining example of where you can go when someone like a mentor believes in you—and allows you to believe in yourself—Grace advised them to follow their own dreams, no matter what those dreams may be.
Finally, we honored the Women's Network of the Greater Boston Chamber of Commerce with the first-ever Believe in Girls Award. In 2007, the Women's Network chose to partner with Big Sister Association. The partnership has allowed us to expand our community, recruit volunteers, gain visibility, and engage new board members. Katy O'Neil, the Chamber's Executive Vice President of Member Services, accepted the award from Little Sister Alina and her Big Sister Kirsten Doyle. Kirsten became a Big Sister after hearing about us at a Women's Network Breakfast in 2008. On October 30, Kirsten celebrated her one year anniversary with her Little Sister.
We would like to extend a big thank you to our presenting sponsor, Liberty Mutual, as well as our Leader Sponsor, Holly McGrath and David Bruce. We would also like to acknowledge crucial support from our Champion, Connector, Organizer, and Activist sponsors. Of course we could not have hosted such a successful event without the commitment of our co-chairs Jack Connors, Jr. and Melissa M. MacDonnell, the Big in Boston Host Committee, and our dedicated Board of Directors.
And finally, we wish to thank all of you who attended Big in Boston. We are proud to have you all as members of the Big Sister community and look forward to your continued support in the coming year!
You can continue to support Greater Boston's girls and create a little holiday magic for you or your loved ones by entering to win Red Sox tickets, a catered dinner party, a glamorous Boston stay-cation, and more in our Magic Maker Holiday Raffle! Drawing is December 18.
Co-chairs
Jack Connors, Jr., The Connors Family Office
Melissa M. MacDonnell, Liberty Mutual Group
Honorary Host Committee
The Honorable Deval Patrick, Governor, Commonwealth of Massachusetts
Attorney General Martha Coakley, Commonwealth of Massachusetts
Mayor Thomas M. Menino, City of Boston
Senate President Therese Murray, Commonwealth of Massachusetts
Host Committee
Nancy Altobello, Ernst & Young
Essence McGill Arzu, Foley Hoag LLP
Beth Bardeen & Max Bardeen, UBS Financial Services, Inc.
Roger Berkowitz, Legal Sea Foods
Terri Campbell, Liberty Mutual Group
Carolyn Casey
Denise Jefferson Casper, Middlesex District Attorney's Office
Mary Joe Clark, Baby Talk and Parenting Magazine
Susan Connolly, Mercer
Christine Creelman
Jane Deery, PGR Media LLC
Peggy Dray, Fairmont Copley Plaza
Tricia Fallon, Brown Brothers Harriman
William Fine, WCVB-TV
Ralph J. Fuccillo, DentaQuest Foundation
Carol Fulp, John Hancock Financial Services, Inc.
Robert E. Gallery, Bank of America
Donna Latson Gittens, causemedia, inc. 
Suzanne Fay Glynn, Glynn Law Offices
Paul Guzzi, Greater Boston Chamber of Commerce
John Hamill, Sovereign Bank
Karen Kaplan, Hill Holliday
Mary Kakas
Trish Karter, Dancing Deer
Aileen Keaney, Audax Group
Janet Kraus, Spire Company Associates, Inc.
Gloria Cordes Larson, Bentley University
Robin Loporchio, Raytheon Company
Kathleen Martin, Blue Cross Blue Shield of Massachusetts
Holly McGrath & David Bruce
Carol McKean, Carol McKean Events
Sharon McNally, The Connors Family Office
Allyce Najimy, The Foundation To Be Named Later
Sabrina Nicholson
Tim O'Brien, Blue Cross Blue Shield of Massachusetts
Lynne O'Connor, Lippincott
Regina Pisa, Esq., Goodwin Procter, LLP
Janet Porter, Dana-Farber Cancer Institute
Don Rodman, Rodman Ford
Mark Roopenian, Normandy Partners
George A. Russell, Jr., State Street Corporation
Laura Sen, BJ's Wholesale Club
Jacqueline Smith, CB Richard Ellis
Jean Tempel, First Light Capital
Marie Turley, Boston Women's Commission
Kate Walsh, Partners HealthCare
Rev. Dr. Gloria White-Hammond, My Sister's Keeper
John Yozell, Yozell Associates
Big in Boston Sponsors:
LEADER SPONSOR: $50,000
Holly McGrath & David Bruce
CHAMPION SPONSORS: $25,000
Denise Jefferson Casper & Marc Casper
CONNECTOR SPONSORS: $15,000
ORGANIZER SPONSORS: $10,000
Ann Marie & Richard Connolly
Goodwin Procter LLP
Pitney Bowes Management Services
PricewaterhouseCoopers
Raytheon Company
State Street Corporation
Jean C. Tempel & Peter Wilson
Yozell Associates
ACTIVIST SPONSORS: $6,500
Andrews International Inc. &
Surveillance Specialists
Avaya
BJ's Wholesale Club
The Boston Foundation
Children's Hospital Boston
Citi
Colliers Meredith & Grew
Dana-Farber Cancer Institute
Delta Dental of Massachusetts
Dyer Brown Architects &
E.G. Sayer Co. Inc.
EMC Corporation
Ernst & Young LLP
Foundation To Be Named Later
Gourmet Caterers
Mercer
Lippincott
Rasky Baerlein Strategic Communications
Right Management
Rodman Ford
PGR Media
Savers, Inc.
Sovereign Bank New England
Thorbahn
A. Raymond Tye
UGL Unicco
Wells Fargo
SPECIAL THANKS TO OUR BEVERAGE SPONSORS: