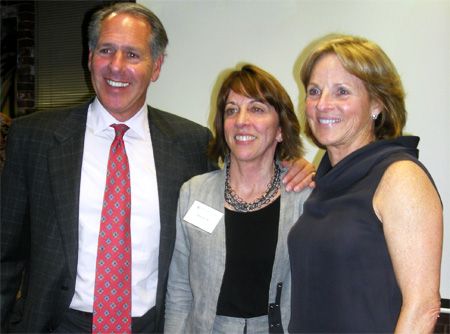 Alan and Harriet Lewis (far left and far right) award Big Sister Chief Executive Officer Deborah Re the Lewis Changing People's Lives Award.
Deborah Re, the CEO of Big Sister Association of Greater Boston, was awarded the Harriet and Alan Lewis Changing People's Lives Award by Grand Circle Foundation (GCF) at the annual foundation dinner held at their South Boston offices on April 6th. 
 
The award recognizes a leader who has achieved outstanding results in the face of adversity and who has significantly impacted the lives of others through risk taking, entrepreneurial spirit, and leadership. 
 
Upon receiving her award, Re shared her appreciation for Harriet and Alan Lewis' generosity and commitment to children's organizations throughout Boston. "I know that Harriet and Alan are going to push me, to challenge me to climb mountains, and to achieve excellence as a leader. But they will not ask me to do it alone; they will be right there with me."
 
Re, a lifelong Boston resident and University of Massachusetts at Amherst Alumna, is committed to creating large scale social change in Boston and sees investment in girls as an essential component. Her experiences as an educator, a 16-year veteran of the financial sector, a social entrepreneur and a tireless advocate on youth issues have enabled her to grow Big Sister into the leading girls' mentoring organization in New England. Big Sister, which she has spearheaded since 2006, serves nearly 2,600 girls in 69 cities within Greater Boston and plans to expand its services to reach nearly 3,000 girls in 2011.
 
Prior to her work at Big Sister, she was a senior executive at Keyport, founded Bridges to Business, and was Executive Director at City Year. Re is a member of the West End Boys and Girls Club Advisory Board and serves on the Board of Directors of Mass Mentoring Partnership.
 
As part of the award, Re will receive a trip for two anywhere that Overseas Adventure Travel or Grand Circle Travel has programs. The Foundation will also provide $25,000 to the organization.
 
Past winners of the award include Andrea Howard, Executive Director of the West End House Boys & Girls Club, Erica Jamison, Principal of City on a Hill and Susan Rodgerson, CEO of Artists for Humanity.
 
About Grand Circle Foundation 
Grand Circle Foundation is the charitable arm of Boston-based Grand Circle Corporation, the leader in international travel, adventure, and discover for Americans over 50.  Since its establishment in 1992, Grand Circle Foundation has donated or pledged more than $50 million to educational, cultural, and humanitarian organizations in Boston and in countries where Grand Circle operates. 
 
About Big Sister
Big Sister Association, founded in 1951, is New England's leading advocate for the healthy development of girls. They are the only mentoring organization in Massachusetts that combines the established, research-based practices of Big Brothers Big Sisters of America with a gender-specific lens proven to increase positive outcomes for girls. In 2010, Big Sister mobilized 170,000 volunteer hours to mentor 2,567 girls in Boston and inspire them to excellence in school, at home, and in the community.