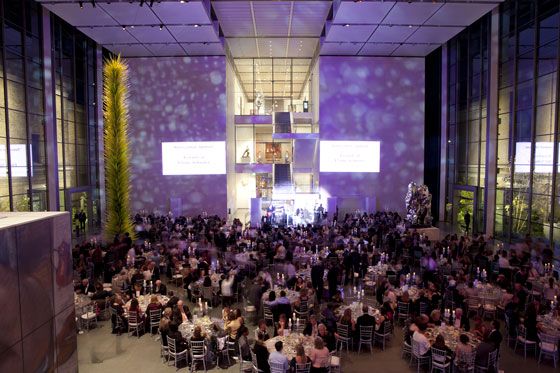 Thank you to our Big Sisters and Little Sisters, Host Committee, Board of Directors, and Boston's corporate, community, and philanthropic leaders for a night to remember. Photo by Matt Teuten. 
Click here to view more photos from the event.
Big Sister Association of Greater Boston honored philanthropist Elaine Schuster Saturday night, November 12th, at our 60th anniversary bash at the Museum of Fine Arts with the theme, Every Girl, a Masterpiece. Chelsea Clinton was on-hand to help celebrate Mrs. Schuster's award, and commemorate our 60 years of serving girls in Greater Boston.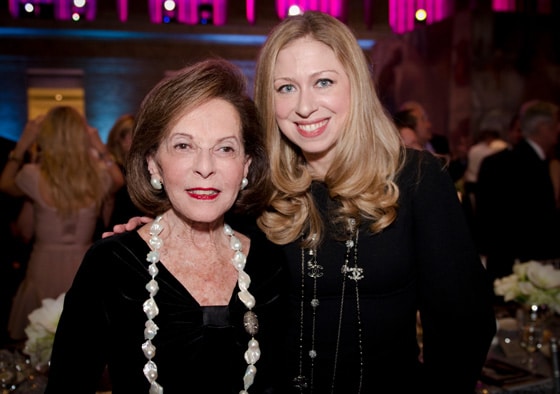 Dinner kicked off with a Flash Mob comprised of staff members dancing the crowd from cocktail hour to dinner, through the Museum's Ruth and Carl J. Shapiro Courtyard. The all-star crowd, including Attorney General Martha Coakley, Secretary of State Bill Galvin, Mayor Thomas Menino, State Treasurer Steve Grossman, Sheriff Andrea Cabral, State Representative William "Smitty" Pignatelli, and State Representative Jeffrey Sanchez, was treated to an elegant dinner party, designed by event guru Bryan Rafanelli and his team.
Chelsea Clinton captivated the audience as she shared the inspirational story of her late grandmother, who transformed from childhood abandonment to mother of the 2008 presidential candidate Hilary Clinton, and mentor to many throughout her life.
Elaine Schuster, presented with the Believe in Girls (B.I.G.) award for her philanthropy and personal dedication to the healthy development of girls, thanked the audience for coming saying that, for her, "the night was about celebrating the importance of giving back, celebrating the community and recognizing the work of an exceptional organization."
"I am deeply honored to be recognized by Big Sister, an organization that has had such an important and positive impact on the lives of young women throughout the city of Boston."
In one highlight of the evening, thirty Little Sisters were treated to a private moment with Chelsea Clinton, when she and Elaine Shuster met with the girls before the program began. Without knowing of Clinton's change in script, Little Sister Mickaella offered Clinton a condolence card in honor of her grandmother.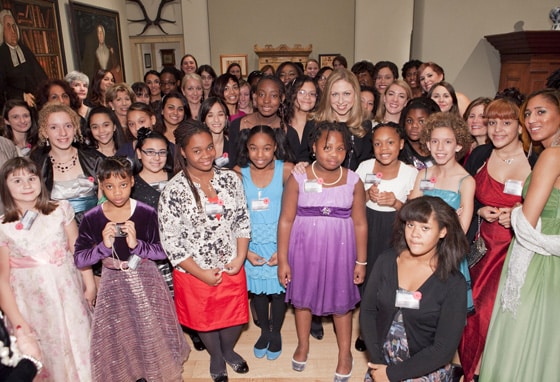 The most moving portion of the night came during remarks given by Former Little Sister Lianne Hughes. Hughes told the crowd of 500:
If you believe in girls, and believe that every girl in this room is a masterpiece, you're not just believing in the organization; you're believing in a better individual, community, society and world as a whole. Because Big Sister is not just about the "neighborhood girl from around the way" it's about every young girl all over the world.

The evening raised more than $850,000 for Big Sister Association, which will go toward our mission of serving the girls of Greater Boston. 

Big in Boston, Big Sister's 60th Anniversary Party: Tributes

 
Honorary Host Committee

Diane Patrick, First Lady of Massachusetts
The Honorable Mayor Thomas M. Menino & Angela Menino
Representative William Smitty Pignatelli
 

Host Committee

Beth Bardeen
Jeff Bellows
Cynthia & Ted Berenson
Julie Butler
Sheriff Andrea Cabral
Heather & Chuck Campion
Attorney General Martha Coakley
Jack Connors, Jr.
Bob Crowe
Meredith DeWitt
Ro Dooley-Webster
Anne Finucane
John Fish
Marylou Batt and Thomas Glynn
Carol R. Goldberg
Deborah B. Goldberg
Dr. Paula Johnson
William F. Kennedy
Michele & Howard Kessler
Harriet Lewis
Trishia S. Lichauco
Melissa MacDonnell
Mary Anne Marsh
Beth & Carmine Martignetti
Kevin McCall
Holly McGrath &  David Bruce
Mary Jo Meisner
Jo Frances Meyer
Dr. Elizabeth Nabel
Allyce Najimy
Katy O'Neil
Lois Pines
Bryan Rafanelli
George A. Russell, Jr.
Audrey & Mark Schuster
Heidi & Scott Schuster
Barbara Sidell
Fred & Gilda Slifka
Roberta & Stephen Weiner
 Abby Yozell

 

Sponsors

$50,000 SPONSOR – RENAISSANCE

Holly McGrath & David Bruce

Friends of Elaine Shuster

The Shuster Family
Elaine & Gerald
Heidi & Scott
Audrey & Mark

Friends of Jeanne Yozell

$25,000 SPONSOR – IMPRESSIONIST

Eileen & Jack Connors, Jr. 

$15,000 SPONSOR – MODERNIST
$10,000 SPONSOR – COMMUNITY ARTIST
Cynthia & Theodore Berenson
Denise & Mark Casper
Sandy and Paul Edgerley
Michele & Howard Kessler
Romanov Zelermyer Family
Dan, Andrew, Isaac, & Julia
Jay & Tracy Snyder
Abby & John Yozell