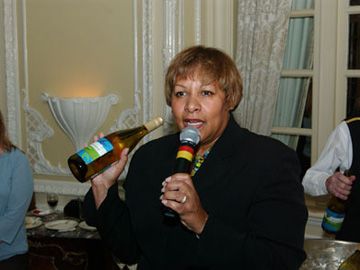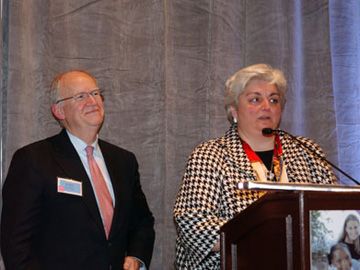 Big in Boston may now be just a memory, but it was certainly an evening of celebrating the friendships of our Big and Little Sisters and creating new possibilities for Greater Boston's girls through the generosity of all those who supported the event.  It was that generosity which helped us raise more than $500,000 through Big in Boston this year!  Though only in its second year, Big in Boston 2007 was the largest fundraising event in Big Sister history and will allow us to provide more girls than ever before with the care and support of a mentor.
 
The evening was a celebration of friendship and sisterhood: from the group of women known as the Women of Simmons College, who came together to raise an unprecedented $75,000 as the Presenting Sponsor for Big in Boston; to the evening's honorees, Divas Uncorked, a group of African-American women who turned their friendship and love of wine into a thriving start-up venture; to the band, Zili Misik, a diverse group of women who set sisterhood to music; to the special Big in Boston cookies, made by two sisters whose love of baking became a successful business. However, the most meaningful examples of the power of friendship were the Big and Little Sisters who spoke about their relationships during the program, which was emceed by CBS4's Mish Michaels.  Current Big and Little Sisters, Elena Proakis Ellis and Kaitlyn, Katie Eagan and Sparkle, Ellen DePaul and Thelma and Angela Johnson and Mariah all spoke to a crowd of nearly 500 guests about the life-changing impact their special friendships have had on their lives. 
 
"When you hear from the Little Sisters like Kaitlyn, Sparkle, Thelma and Mariah, the positive impact that having a mentor has had on their lives is evident," said Deborah Re, Big Sister's Chief Executive Officer. "It was clear from the outpouring of support for Big in Boston that our community understands why gender-specific mentoring is necessary."
 
In addition to these current matches, one very special Little Sister, Linda Brennan, gave a moving speech about how her Big Sister Marlene changed her life when they were first matched 44 years ago.  "Marlene was educated, compassionate and extremely persevering. As I stand here tonight, I can honestly say that Marlene saved my life," Linda told the audience.  And just as Marlene had always been there for Linda, she was there to hear Linda speak at Big in Boston—and to receive a standing ovation from the audience!
 
As a final showing of support for Greater Boston's girls, guests donated more than $26,000 through our Matchmaker Challenge, hosted by surprise guests, who are "big" in Boston in their own right, Natalie Jacobson, formerly of Channel 5 fame and Susan Wornick, also of Channel 5.  The Matchmaker Challenge allows us to remove from the waiting list Little Sisters who are ready to be matched when donors make a contribution of $1,000—the average cost of making and supporting a match.  That's 26 girls who will now receive the care and support of a Big Sister!
 
Of course the evening would not have been the success it was without the generosity of all those individuals who donated to the event and Big in Boston's corporate sponsors.  We would particularly like to thank the Presenting Sponsor, the Women of Simmons College.  We would also like to thank Goodwin Procter, The Connors Family, Liberty Mutual, WilmerHale, Blue Cross Blue Shield of Massachusetts, Tufts Health Plan, Bain Capital Children's Charity, CitiBank, Bank of America, PricewaterhouseCoopers LLP, Eastern Bank Charitable Foundation, CSX Corporation and Janet Kraus and Jim Giebutowski.  We look forward to seeing you again next year at the even bigger and better Big in Boston!