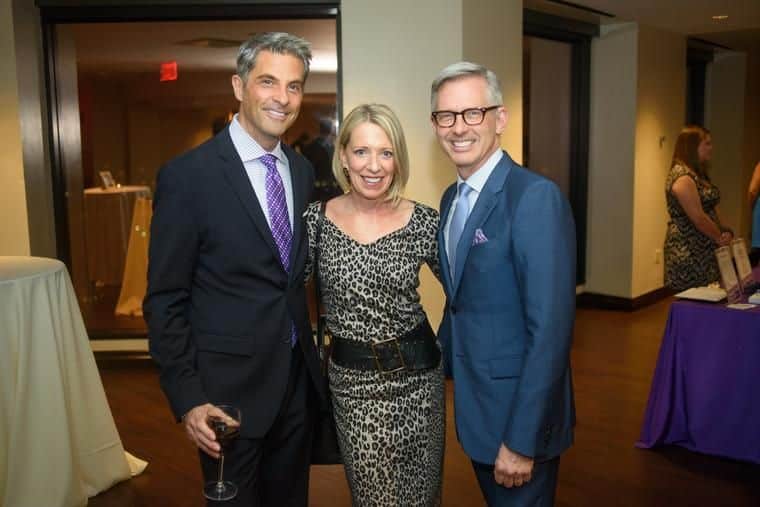 Local luminaries, Big and Little Sisters, and professional models lit up the runway at Big Sister Boston's Project Role Model Fashion Show on Thursday, March 10. More than 300 guests lined the catwalk at the State Room for an evening filled with inspiration that went well beyond a Spring wardrobe. The event, emceed by WBZ-TV's Lisa Hughes, and chaired by Mariann Youniss and Kelly McDermott, raised a record-breaking amount of more than $160,000.
Looks ran the gamut from athletic to couture, and were supplied by our partners The Street and Braintree-born, Northeastern alum now based in New York, designer, Michael De Paulo. Rocking the runway were role models: Jeff Bellows, Blue Cross Blue Shield of Massachusetts; Kyle Burrell, Ernst & Young, Nurys Camargo, AT&T and Chica Project; Matt Chatham, three-time Super Bowl champion with the New England Patriots; Charlie Davies, New England Revolution; Steve DiFillippo, Davio's Restaurant Group; Britt Dunn, Hill Holliday; James Gallagher, John Hancock Financial; Dan Koh, City of Boston; Melissa MacDonnell, Liberty Mutual Foundation; Dr. Mallika Marshall, WBZ-TV; Ify Mora, Barr Foundation; Bryan Rafanelli, Rafanelli Events; Amy Sennett, WilmerHale; Michelle Wu, Boston City Council.
Alongside them were: Big Sister Nathalia Ashworth with Little Sister Aniyah, Big Sister Danielle Drayton with Little Sister Brianna, Big Sister Dorree Gurdak with Little Sister Megan, Big Sister Leanne Lewis with Little Sister Isabelle, and Big Sister Jen Smith with Little Sister Brianna.
Following the fashions, auctioneer Charlie Rose, Senior Vice President and Dean of City Year, raised funds to support our mentoring and enrichment programs for girls during a live auction. Generous bidders walked away with priceless packages that included African safaris, tickets to Big Papi's sold out final home game at Fenway, and a membership to Vermont's private ski and golf club The Hermitage. Guests also stepped up to make donations in support of matching more girls with a caring, supportive Big Sister.
Big thanks to our host committee, ticket buyers, auction bidders, and sponsors, without whom the event would not have been a trendsetting success!
Host Committee
Cindy Brennan •  Val Buller • Carolyn Casey • Carey Cort • Stephanie Coughlan
Patricia Cravo • Jane Deery • David Gow • Susan Kingsley • Sharon McNally
 Allyce Najimy •  Sofia Ostrer • Shannon Pastuszak
Don Rodman • Wendy Thurmond • Terry Wadsworth
Fashion Partner
and Michael DePaulo
For sponsorship information, please contact Morgan Soares at msoares@bigsister.org.
Haute Couture Sponsors
Trendsetter Sponsors
Blue Cross Blue Shield of Massachusetts
Hill Holliday
PGR Media
Qlik Technology
Terry and Rob Wadsworth
Waters Corporation
Mariann and Andy Youniss
Cocktail Lounge Sponsor
Official Media Sponsors