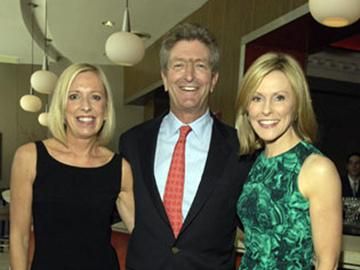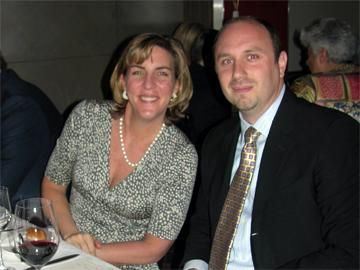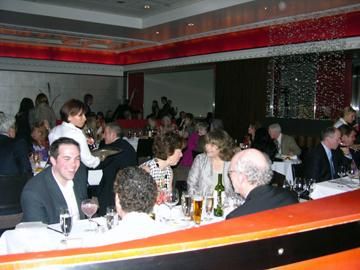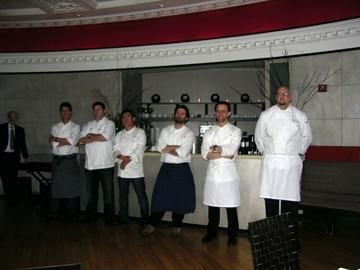 It is hard to say what made Big Sister's Celebrity Chef Dinner so unforgettable—the black cod with sweet miso or the heartfelt words of Little Sister Chauntae—but one thing is for sure: it was an evening that delighted the senses and inspired the spirit. 
 
On Sunday, April 11, more than 140 guests gathered at Radius in Boston for the sold out Celebrity Chef Dinner. Now in its eleventh year, this was the most successful dinner to date, thanks to our generous sponsors and guests. Owner and renowned chef, Michael Schlow, hosted the dinner which featured dishes from six of Boston's gastronomic gurus. 
 
Seth Raynor, of The Pearl restaurant on Nantucket, started off the meal with a poached shrimp ceviche served with a green chili and pickled fruit sauce. Stella's Evan Deluty followed with an impressive dish of seared scallops with butter potatoes and truffle vinaigrette. Ting Yen of Oishii kept with the sumptuous seafood theme by serving black cod and sweet miso sauce. Tony Maws of Craigie on Main mixed it up with delicious farro pasta and mini lamb meatballs, while Via Matta's Mike Pagliarini rounded out the main courses with a tender slow roasted rib eye (donated by Savenor's) accompanied by spring vegetables. For dessert, Radius' own Matthew Audette pulled out all the stops with a decadent chocolate chibouste complemented by fudge ice cream and a spicy cherry sauce.
 
In between courses, emcee Lisa Hughes of WBZ-TV kept guests engaged and shared a very special letter written by Lucy Benitez, mother of Little Sister Chauntae. Thanks to the generosity of last year's Celebrity Chef Dinner guests, 14 year-old Chauntae of Roxbury was able to come off our waiting list and was matched with Big Sister Amy Malone. The relationship has been nothing less than life-changing. In her letter, Lucy shared that two years ago Chauntae experienced a traumatic episode that plunged her into a deep depression. After months of unsuccessful visits to therapists and doctors, Lucy called Big Sister Association. When Chauntae was matched with Big Sister Amy in October 2009, she knew she had finally found someone she could open up to and trust, who listened with an open heart and mind. By Thanksgiving, Lucy felt like she was getting her daughter back. Following Lisa's reading of the letter, Chauntae, who attended the dinner with her Big Sister, got up and thanked everyone who contributed to taking her off the waiting list and giving back her smile.
 
The evening concluded with the opportunity for guests to take more girls like Chauntae off our wait list of 300 girls. Adding to the excitement, Michael Schlow graciously offered two packages to those who bid $10,000 to take 10 girls off the waiting list. The first package featured a golf outing and dinner with Schlow and Evan Deluty, and the second included a season pass to Radius' cooking classes paired with the chance to be sous chef for the day. Thanks to the generosity of those who gave during this segment, 79 girls can now be matched with a Big Sister. 
 
We are most grateful to Michael Schlow and his fellow chefs for creating a memorable evening. Special thanks are in order for our event co-chairs, Max Bardeen and Sharon McNally, who worked tirelessly to make the event the success that it was. And we would also like to extend a big thank you to our sponsors: Executive Chef Sponsor: The Connors Family; Chef de Cuisine Sponsor: Normandy Real Estate Partners; Sous Chef Sponsors: Blue Cross Blue Shield of Massachusetts, Partners HealthCare, Suffolk Construction's Red & Blue Foundation, and UBS Financial Services, Inc.; and Chef de Partie Sponsor, Natixis Global Associates. Finally, we wish to thank everyone who helped us put caring and supportive mentors in the lives of more of Greater Boston's girls.
 
We look forward to sharing delightful dishes and inspiring stories again with you at next year's Celebrity Chef Dinner!