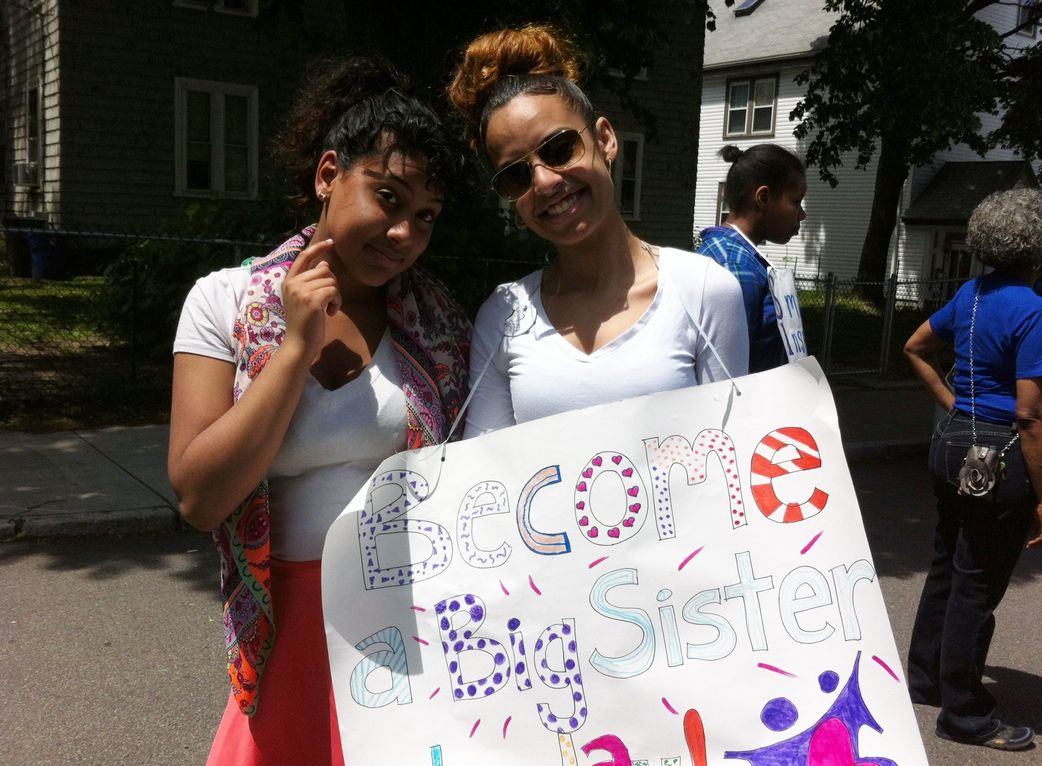 "I look at Natalia and I see my past self," said Big Sister Luz Villar. Luz, 24, and Natalia, 16, say they are often mistaken for biological sisters. They share similarities such as living in Dorchester, identifying as both Puerto Rican and Dominican, and a penchant for dressing alike, especially when attending Big Sister Boston-sponsored events like our annual Appreciation Breakfast. But, their connection goes far deeper than the matching outfits they relish combing the racks for at Goodwill. 
Like her Little Sister, Luz grew up in a household led by a single mother. Luz was the eldest child and her family moved around the Boston area often, making it difficult for Luz to consistently attend any one school. In high school, Luz enrolled in a vocational school, knowing that she could remain there even if her family moved again. She excelled academically and went on to attend architectural college. When financial challenges forced her to leave college, she found a job at State Street Corporation. She then enrolled in Cambridge College where she will earn her bachelor's degree in Business Management this spring. Luz still felt there was something missing, and it was at an information session hosted by State Street that she first heard about Big Sister Boston and knew she wanted to get involved. "I wanted to do something meaningful with my free time," said Luz. 
After interviewing Luz, our enrollment and matching team knew that she would be a great fit with Little Sister Natalia. In February of 2014, the two were matched. Natalia admitted she kept to herself at first, but Luz's efforts to get to know Natalia at her own pace paid off. Natalia soon became comfortable with her new Big Sister and began share more of her thoughts and feelings. A few months later, the two were chatting about what they would wear to their first Big Sister Appreciation Breakfast, and Little Sister Natalia stated firmly: "We should 'twin it.'" It was then that a tradition was born and the Sisters soon became known for their matching outfits at our events. During the breakfast they met other Big and Little Sister matches who had been together for five and ten years and they both knew then that they wanted that kind of longevity, too.
 
Luz and Natalia's conversations range from the silly to the serious. "If I'm bringing myself down, Luz will bring me back up," said Natalia. "When I hang with my friends, we don't talk like I talk with Luz. My mom and I are close, but when I talk with Luz it's different. I'm a like a grown woman with her." Over a plate of homemade french fries they have concocted together (their favorite food), Luz and Natalia might joke around, plan their next adventure, or talk about their big plans for the future. Before being matched with Luz, Natalia had no plans to go to college. "I didn't think I needed it," she said. "Luz opened my eyes to the world." After graduating from middle school?—?where Luz cheered loudly for her Little Sister?—?Natalia was accepted to Snowden International School, an academically rigorous school in the Boston Public School system. Now in her sophomore year, Natalia is determined to go to college and wants to become a counselor for teenagers. She draws the inspiration to achieve her goals from her Big Sister. Despite challenges along the way, Luz will graduate from college in a few months and Natalia will be there to cheer loudly when Luz receives her diploma. "I see Luz, and that's my future," said Natalia.