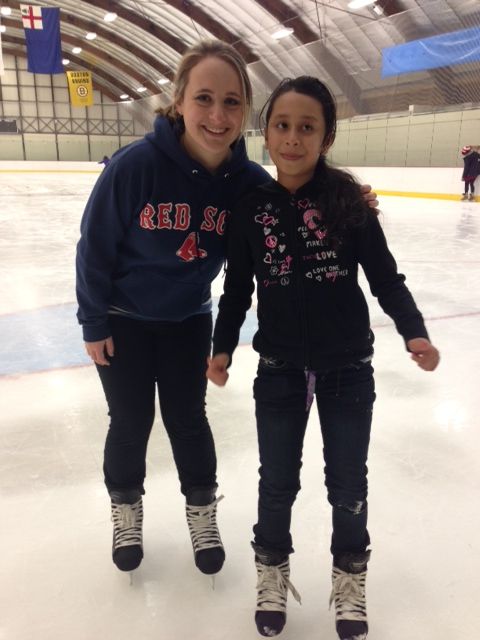 Little Sister Areana was growing up quickly. She and her mother faced periods of housing insecurity, often living in shelters. By age seven, Areana had learned to cook for herself and her mom. Before she was 10 years old, Areana's father had all but disappeared. Watching TV one day, Areana saw a commercial for Big Sister Boston where women and girls were laughing and having fun together. She immediately told her mother that she wanted a Big Sister of her own. Areana's mother agreed that a Big Sister might be the best thing for her energetic daughter who often claimed she was lonely. She and her daughter shared a close relationship, but she also thought Areana could benefit from the stability of another positive adult in her life. She called Big Sister Boston and Areana was soon matched with Big Sister Katrina.
Katrina grew up in Vermont's dairy farm country. She moved home after attending college in Boston, but soon realized her heart was back in the city. She relocated to Boston and was looking to lay down roots in her new home. In Vermont she had often thought about becoming a mentor to a local girl, and once she moved back to Boston, she finally had her opportunity to become a Big Sister.
With Katrina, Little Sister Areana truly got to be a kid. On their first excursions they went to the Boston Common and photographed the birds and squirrels. They visited the Children's Museum and the New England Aquarium, taking goofy selfies and laughing along the way. When winter came, they went ice-skating, which Areana had been eager to try. Katrina took a hard fall, making her Little Sister nervous to stay on the ice. When Areana saw her Big Sister get up, brush herself off, and keep going, she found the confidence to do the same.
In the kitchen, their relationship thrived and their horizons broadened. Katrina, a vegetarian who loves to bake, taught her Little Sister how to make treats like zucchini bread.  Areana, an ardent omnivore, who had already been cultivating a love of cooking, taught her Big Sister how to make familiar foods based in her Hispanic heritage, like alcapurrias and empanadas. Together they combed through cooking magazines for seasonal recipes, scoured the grocery store for new ingredients, and cooked up delicious dishes for Areana's mom to sample. Not telling her who made what, they would ask her to judge which was her favorite—an activity they affectionately named "cooking wars."
Now 13 years old, Areana said: "Katrina has taught me how to be more confident and stand up for myself." When Areana sang and acted in her school play, Katrina was in the front row, beaming at her Little Sister's performance. When a bully on the bus chose Areana as his target, she went to her Big Sister for guidance. Areana and the boy are now friendly. Before being matched with Katrina, Areana struggled with reading. This year, Areana made the honor roll for the first time and was awarded student of the month for helping out in the classroom.
Areana's mom attributes many of the positive changes she's seen in her daughter to Areana's relationship with Katrina. She often tells Katrina that the time spent with her is an escape for her daughter, a calm space for her to relax and enjoy her childhood. For Katrina and Areana, the future looks bright. This summer, Areana is looking forward to her Big Sister teaching her how to swim at Revere Beach as the two continue to learn and grow together.