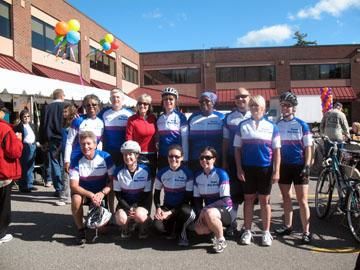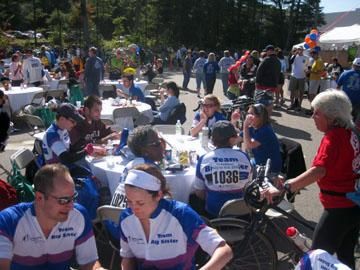 There was no stopping Team Big Sister at this year's Rodman Ride for Kids! On Saturday, September 26, 34 riders gathered at the starting line in Foxboro, MA to take on a 25, 50, or 100 mile route. This year's team was our largest to date and included the 34 riders plus 12 "virtual riders" (fundraising only) who helped us raise nearly $50,000! And we're still going strong—donations to Team Big Sister can be made up through November 1, 2009. Click here if you would like to contribute.
 
The Rodman Ride for Kids is an umbrella matching gift charity raising funds for youth-focused social service agencies in Massachusetts, in which Big Sister participates each year. This year's team was made up of a diverse pool of riders that included Board Members, Young Professional Board members, Big Sisters, staff members, and many other members of the Big Sister community! Riders and friends joined us for several events in support of Team Big Sister leading up to the big day: a kick-off party, a fundraising social for young professionals, team spinning classes, and boot camp.
 
On Ride day, participants cycled a scenic route around southeastern Massachusetts and ended with a celebratory barbeque at the finish line. "I'm fortunate to have the experience of not only raising crucial funds for Big Sister as a rider, but also seeing the benefits of those funds through the amazing friendship I share with my Little Sister Toni," said Laura Toni Holsinger, who in addition to being a Team Big Sister rider and Big Sister to 13 year old Little Sister Toni, is also a staff member. "There are so many girls in Boston that could benefit from the care and attention of a Big Sister, and I'm proud to have ridden 25 miles in support of that!"
 
We would like to thank Team Big Sister sponsors, Shawmut Design & Construction and Gerry McCarthy of Mortgage Masters, Inc. We also want to thank our fantastic team captains, Andie Morales and Lisa Scannell, in addition to all those who rode, raised money, and the generous folks who donated to them. We're already tuning our bikes up for next year's Ride and hope that you will join us!