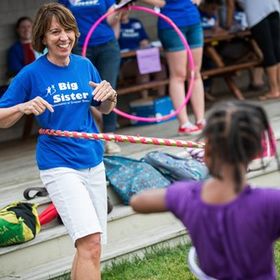 President and Chief Executive Officer
A lifelong resident of Boston, Deborah Re has more than 25 years of management, entrepreneurial, and organizational development experience. Deb currently leads Big Sister Boston with an emphasis on developing staff, maintaining high program quality, improving organizational capacity, and creating collaborative partnerships.
In 2015 Big Sister Boston was recognized by the national Big Brothers Big Sisters network with the distinguished Agency of the Year award. Before joining Big Sister Boston as CEO in 2006, Deb worked for City Year Boston where she served as Executive Director. Prior to her management of City Year, Deb was President and Founder of Bridges to Business, a company that specialized in training and placing young adults with non-traditional backgrounds in the workforce. In addition, Deb has 16 years of leadership experience in the private sector as Vice President of Administration for Keyport Life Insurance Company. As a testament to her commitment to the community, Deb received the 2001 LeadBoston Community award from the National Conference for Community and Justice, the 2001 Heroes Among Us award from the Boston Celtics, the 2011 Changing People's Lives award from Grand Circle Corporation, the 2015 Greater Boston Chamber of Commerce's Pinnacle Award for Achievement in Management in the Nonprofit Sector, and was named a Women of Influence in 2016 by the Boston Business Journal. In 2014, Deb was appointed to the City of Boston Women's Commission and served on Governor Baker's transition team. Deb holds a Bachelor of Arts degree from the University of Massachusetts, Amherst.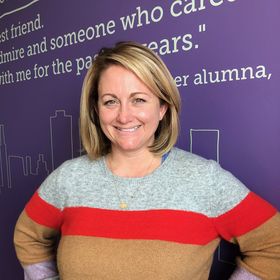 Chief Development Officer
Kelli-Beth Vecchione (KB) has been raising funds for causes close to her heart for 15 years. Service has been the through line of her education and career. After attending the University of Connecticut where she earned a Bachelor of Arts degree in Human Development and Family Studies and served as the President of service organization, Alpha Phi Omega, KB went to Florida as an AmeriCorps VISTA volunteer.
During her year of service, she engaged in fundraising activities that sparked what would become a life-long passion. She returned to her native Massachusetts and launched her fundraising career as the Senior Program Director at the Big Brothers Big Sisters program of the Old Colony YMCA and continued on to become the Development Manager for the Boston Area Rape Crisis Center. Prior to joining the Big Sister Boston team, KB served as the Director of Development for the Two Ten Footwear Foundation raising funds to help footwear families facing a crisis get back on their feet. KB is fully invested in the mission of Big Sister Boston and positively impacting the future of the girls and women of our community.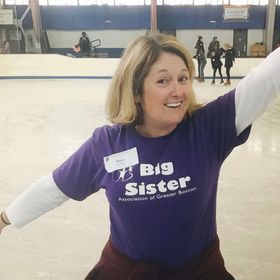 Vice President of Marketing
Maren joined Big Sister Boston as the Marketing Communications Specialist in 2006. During her first four years at Big Sister, Maren was promoted to Director of Marketing & Communications. After roles in marketing at Massachusetts General Hospital and graphic design at Alphabetica, Maren returned to Big Sister Boston in 2015 to spearhead the organization's branding and communications efforts.
In her current role, Maren develops brand strategy, publication content, visual design, and online marketing. Though she began her career as a media planner/buyer at advertising agencies in Virginia and Boston, at the heart of her work is a passion for Big Sister's gender-specific mission and a desire to educate and inspire volunteers, funders, and partners. Maren holds a B.A. in English and Anthropology from Bucknell University and a master's degree in Advertising from the S.I. Newhouse School of Public Communication at Syracuse University.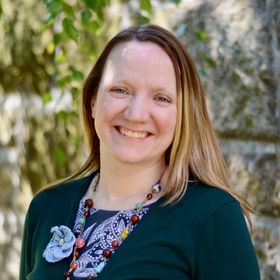 Vice President of Programs
Melissa's career arc has been focused on empowering, equipping, and leading talented program staff to achieve organizational goals. She believes wholeheartedly in the impact that strong, professionally supported mentoring relationships have on both the mentor and mentee, and that girls today need a network of allies and champions to help them achieve their individual goals.
Successful mentoring requires heart and science and Melissa brings both to the table. Melissa began her career as a case manager for specialized foster care families and has always had a passion for supporting young people. Prior to joining the Big Sister Boston team, Melissa spent more than a decade with Big Brothers Big Sisters of Eastern Mass, leading the Program Match Support Team and driving research-based best practices that yield quality results. As a continuous learner around issues of racism, power and privilege, Melissa is excited to bring that passion to Big Sister's ongoing commitment to diversity and inclusion, and explore how it intersects with mentoring relationships, staff, and the broader community. Prior to entering the mentoring field, Melissa holds a Bachelor's degree in Social Work from Gordon College.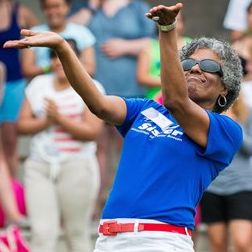 Vice President of Community Relations
Mia Roberts is responsible for recruitment initiatives, new collaborative partnerships, program data and operations, and the creation and implementation of strategies that build and maintain diversity among staff and volunteers.
Prior to joining Big Sister in 2002, she served as a Director and Senior Consultant for the Efficacy Institute, a not-for-profit Massachusetts-based organization that consults with school districts and community-based organizations on systems to develop all children to high standards, especially children of color and the economically disadvantaged. She also has more than 15 years experience in human resources and administration in the retailing industry which includes oversight of the performance and compensation programs for 7,000 employees in 20 locations at the Dayton-Hudson Department Store Company. Mia graduated from the University of Michigan with a Bachelor of Arts degree in Business Administration.
LSW, Chief Administrative Officer
Heidi Ziobro joined Big Sister in 2010 as the VP of Programs. She graduated from Northeastern University with a Bachelor of Science degree in Criminal Justice and earned her Master of Science degree in Psychology from American International College. 
She is also a licensed social worker. She began her career as a program manager for Lifeworks, Inc., helping to provide homes, jobs, and supportive living to adults with developmental disabilities. Heidi worked at Vinfen Corporation as a program director for six years, working with adults who have psychiatric disabilities and assisting them with their rehabilitation goals. As a former Big Sister, Heidi experienced the direct positive impact that a professionally-supported mentoring relationship can have on both the Big and Little Sister. Heidi has leveraged her experience to expand Big Sister Boston's recruitment practices and mentoring programs in order to serve more women and girls throughout Greater Boston.