Community of Collaborators
Big Sister Boston is able to offer the depth of programs and activities that we do thanks to our partnerships throughout Greater Boston. From major funders, to academic institutions, to community organizations, we are proud to be supported by a community of partners who are invested in girls.
"I am awed by how much Big Sister is able to accomplish. Their program changes girls' lives and they are exceptional at keeping organizations, partners, and benefactors informed and engaged."

-Neil McCullagh, Director of the Corcoran Center for Real Estate and Urban Action; Executive Director, The American City Coalition
Each year we recognize a Partner of the Year: a business, community organization, or civic entity who has collaborated with us in varied and unique ways to invest in Greater Boston's girls.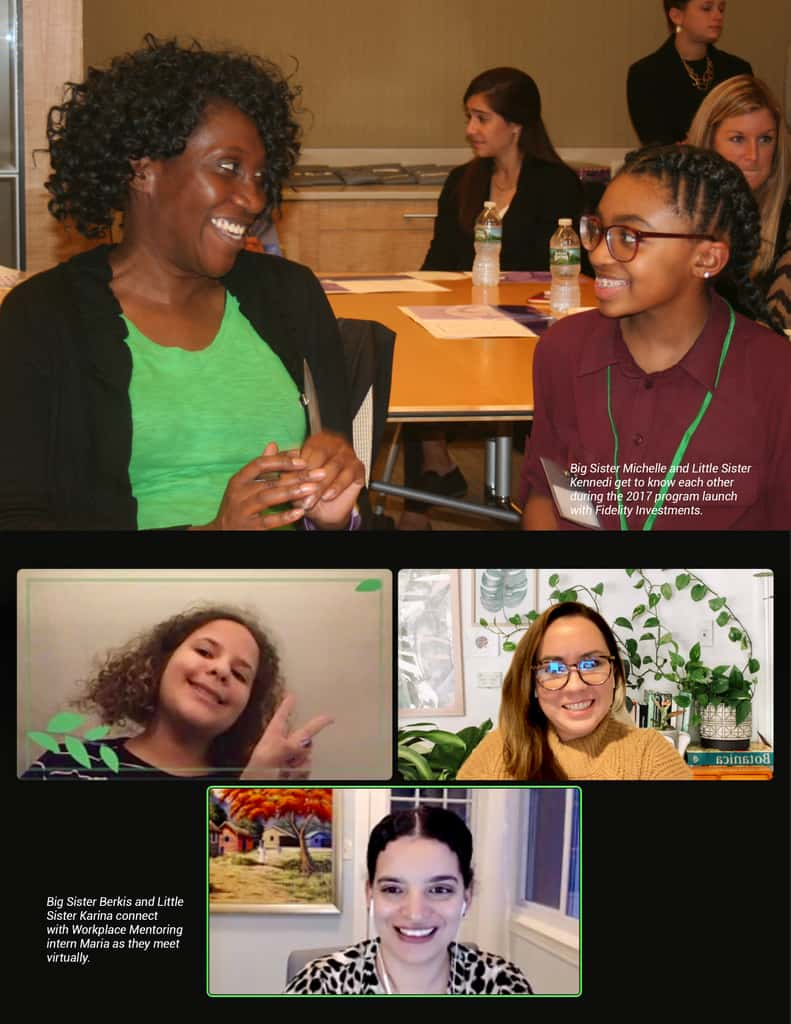 Fidelity Investments was chosen as our Partner of the Year because of its steadfast commitment to our Workplace Mentoring program, support of Big Sister Boston's fiscal and strategic oversight through Board leadership, and the sustainable impact created by its annual philanthropic contributions.
In 2017, Fidelity became one of the first companies to engage their employees in our Workplace Mentoring Program in which they are partnered with Little Sisters from Boston Latin Academy. The program provides the opportunity for employees to become a Big Sister and meet with their Little Sister during the workday; an opportunity that may not have otherwise fit in their schedule. The mission and goals of Big Sister Boston immediately resonated with Fidelity associates who were eager to participate. "Fidelity recognizes the importance of giving back to the community, and the Workplace Mentoring program allows associates to become involved," said Michele Robinson, Program Manager, Talent Acquistion.
Workplace Mentoring Partners
Workplace Mentoring programs provide students with the opportunity to get an inside look at local company and receive the support of one-to-one mentoring relationships with professionals who work there. Big Sisters in the Workplace Mentoring program get the unique chance to invest in and connect with their communities during their busy workdays. If you'd like to start a Workplace Mentoring program at your company, or if you have questions about how to get more involved, contact us today!
Big Sister Boston works with partners in a variety of sectors who encourage women to become Big Each year we partner with a variety of community organizations who help us recruit Big Sisters and enroll Little Sisters. 
To find out more about how to partner with Big Sister Boston, please email bigsister@bigsister.org or call 617.236.8060. 
Civic Organizations
Boston Housing Authority
Boston Police Department
Boston Public Health Commission
City of Boston
Commonwealth of Massachusetts
Massachusetts Caucus of Women Legislators
Mass Mentoring Partnership
Massachusetts Port Authority
Hospitals
Boston Children's Hospital
Boston Medical Center
Brigham and Women's Hospital
Dana-Farber Cancer Institute
Massachusetts General Hospital
Affinity Groups
The Ad Club
Association of Latino Professionals for America
Chica Project
City Awake/Greater Boston Chamber of Commerce
Conexion
The Latina Circle/Amplify LatinX
Lesbians of Color Symposium Collective, Inc.
LiteWorks
The National Society of Black Engineers
Queens Company
Sigma Gamma Rho
Society of Women Engineers
Spark Boston/City of Boston
Women With Purpose
Women's Network of the Greater Boston Chamber of Commerce
Y Achievers of Tufts Health Plan
Universities
Berklee College of Music 
Boston College
Boston University
Brandeis University
Bunker Hill Community College
Curry College
Emerson College
Emmanuel College
Fisher College
Harvard University
Lesley University
Massachusetts College of Pharmacy and Health Sciences
Massachusetts Institute of Technology
Newbury College
Northeastern University
Roxbury Community College
Salem State University
Simmons College
Suffolk University
Tufts University
Wheelock College
University of Massachusetts Boston