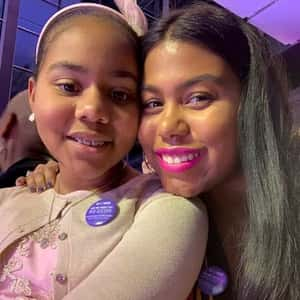 Although Taiomi has been a Big Sister for six years, her relationship with our organization goes back much further. Not only is she one of our former Match Support Specialists, but she was also a Little Sister as a girl growing up in Boston. "I knew the mission and loved it, and that's why I wanted to work at Big Sister," said Taiomi. "I had a ton of mentors who really helped me through life," she said. "I realized how important it was to have a strong, powerful adult in your life that's just there to support you specifically. I know what the outcome is of having a supportive adult in your life, which is why I wanted to become a Big Sister."
Despite having made countless matches during her time at Big Sister, Taiomi was still nervous to become one herself. "I was nervous about our compatibility. I didn't want to let her down. I worried if she would have fun," said Taiomi. However, once she came to know eight-year-old Mia, she relaxed a bit: "She really was like a mini-me!"
Mia was nervous, too. Her mom enrolled her with Big Sister Boston because she felt her daughter needed some one-on-one time with a caring adult, and to try new activities. Mia wasn't sure what a Big Sister was or what it would be like to go out with a stranger, but her fears were soon gone. Mia was thrilled when the Big Sister who walked through the door looked like her, and excited when Taiomi took her out for ice cream so they could get to know each other! "My life before Taiomi was me usually being stuck at home. Every day it was school-home-school-home," said Mia. "My mom is pretty strict and wouldn't let me go out much. I didn't know half of Boston before I met Taiomi!"
Early on, their relationship was mostly activity-based. They loved trying new places to eat and new foods (Mia had never eaten frozen yogurt before). They painted pottery, went to SkyZone and Canobie Lake Park. They loved going to Taiomi's house to play with her dog and make cupcakes. All the while, Mia shared more and more about her life, and she and Taiomi developed a deeper, trusting bond. When Taiomi took Mia to her house for the first time to meet her mom and her dog, Mia realized how close they were and felt honored to be introduced to her Big Sister's family.
Most of all, Mia cherished her time with her Big Sister. The oldest of three sisters, and eventually a little brother, Mia was constantly surrounded by her siblings. "My household is crazy, lots of kids and family stress," said Mia. "When I'm with Taiomi there's not a lot of kids screaming; it's quiet, I can talk to her." Mia shares a room with her two sisters and has little privacy or alone time. "Mia always says how it's nice to be out with just me. It was a big thing for her to have her own time," said Taiomi. These days the two spend their time together sharing stories, problem solving challenges in Mia's life, and planning Mia's upcoming Quinceañera. Having gone through her own Quinceañera, Taiomi has proven to be a great source of advice and guidance for Mia.
Despite changes in her life over the past six years, most notably getting married and becoming a mom to twin girls, Taiomi has remained committed to her relationship with Mia, who is now 14. "Oh, I love it," said Taiomi of her time with Mia. "I feel like I'm with it, I can keep up with what's going on in pop culture, but when I'm with Mia I'm like 'oh, this is what's happening?' Mia keeps me young."
"She's always available to me," said Mia of her Big Sister. Mia knows that any time she needs Taiomi, she's only a phone call or a text away.