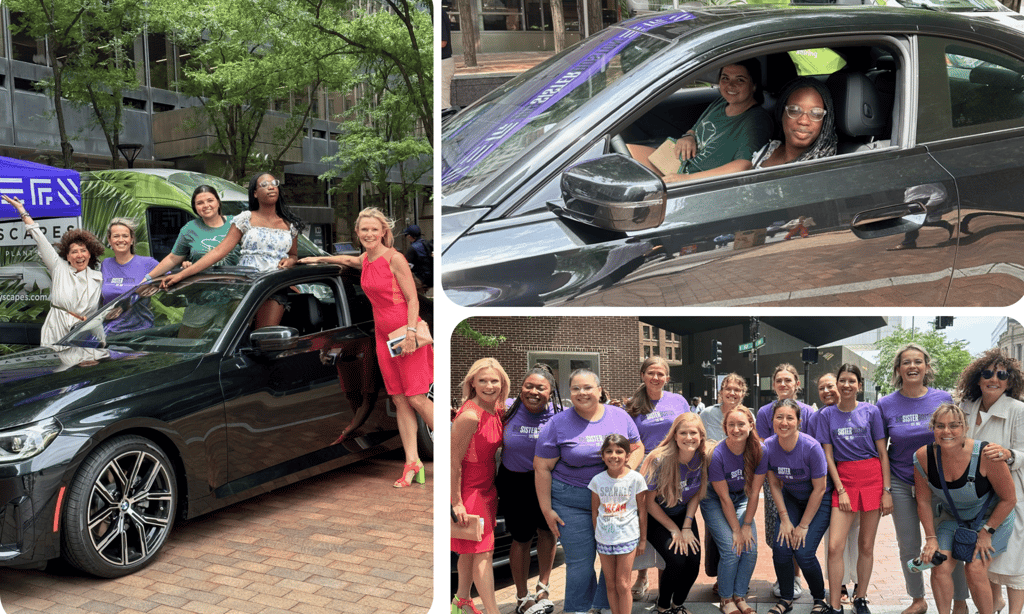 Little Sister Isabelle and Big Sister Saige helped draw one of the winning tickets; Isabelle and Saige pose with the car, Herb Chambers BMW of Boston, Melissa Steffy, and WBZ-TV News Anchor, Lisa Hughes; Big Sister staff with the car and Big Sister President & CEO, Annissa Essaibi George.
Kent Kurchak has been purchasing Car Raffle Tickets to support Big Sister Boston for 30 years. Kent and his wife Peg Sullivan believe in the mission to ignite girl's passion and power to succeed through positive mentoring relationships. Even when they moved from MA to VT, they continued to support the mission. Their luck shined on them after all these years as Kent's ticket was picked from the gold drum by Melissa Steffy from Herb Chambers BMW of Boston. Lisa Hughes from WBZ called Kent live and he answered the phone. He was truly excited! They are thinking over their choice but are leaning towards taking the BMW as their prize. And they tell us that they will continue to purchase tickets and support the girls of Greater Boston for years to come.
And the winners are: 
Grand Prize 
2023 BMW 230xi Coupe or $40,000 in cash
Kent Kurchak
Runner up prize #1: $1,000
Joseph Figueiredo
Runner up prize #2: $500
Catherine Gall
One-month free parking
Emily Heffernan from Pierce Atwood
Thank you to everyone who purchased ticket(s) in this year's 35th annual Car Raffle! The proceeds raised from the raffle will directly benefit our mentoring and enrichment programs for girls, making them the real winners today.
We also wish to extend our thanks to: 
Lisa Hughes and WBZ-TV/CBS Boston
100 Summer Street
The Boston Globe
Cityscapes/TransPLANTEDed Roaming Greenhouse