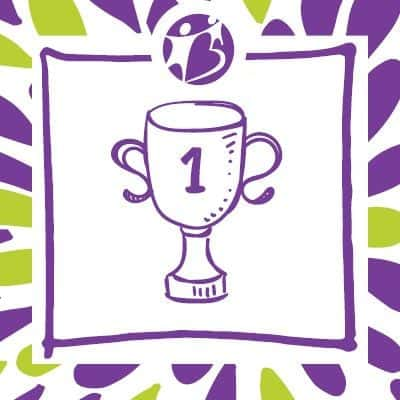 In honor of National Volunteer Week we'll be recognizing some standout Big and Little Sisters in our Community-Based and Site-Based Mentoring programs all week long. Check back throughout the week for new winners and see them highlighted on our Facebook, Instagram, and Twitter pages. Congratulations to all our winners!
Community-Based Mentoring Awards
Big Sister Courtney Grady & Little Sister Keilyn
Matched since: September 2016
The Health and Fitness Award goes to Little Sister Keilyn nominated by her Big Sister Courtney Grady. Keilyn is a sports fanatic; she has played field hockey, lacrosse, and basketball over the last year. As a freshman, she's already planning to be on varsity next year and training to make that dream come true. Practice and training is increasingly difficult for Keilyn who lives in Boston, but goes to school and plays on teams in Scituate; it is logistically more challenging for her to connect with her team to practice. Knowing this, last summer she was committed to training here in Boston, so she could make the team. Whenever Courtney and Keilyn would spend time together, they would run along the river. They both felt out of shape at the beginning, so running intervals was the best way to get up to speed. By the end of the summer, Keilyn was running 8-minute miles! She made the team and hopes to continue training to receive a sports scholarship for college.
Big Sister Anya Weber & Little Sister Najia
Matched since: April 2016
The STEM Award goes to Little Sister Najia nominated by her Big Sister Anya Weber. Anya and Najia love going to science fairs, Earth Day celebrations, the zoo, and the Museum of Science. Najia especially likes hands-on building and engineering projects and is happy when she can bring home an item that she created to show her family. In school, she's a strong science student. She and some of her classmates recently started a science book club with the support of their teacher. Anya says she can definitely picture Najia putting her interest in science and engineering into practice as a career someday.
Big Sister Debbie Schwartz & Little Sister Natasha
Matched since: May 2007
The Career and Education Award goes to Little Sister Natasha nominated by her Big Sister Debbie Schwartz. Debbie says she has always known that Natasha had high educational expectations for herself, but didn't know just how hard she worked to achieve her goals. When Natasha was a junior in high school she was one of only 25 students from Massachusetts awarded the Christian A. Herter scholarship. This scholarship includes up to 50% of college costs for all four years. The mission of this award is to provide educational opportunities for Massachusetts students "who demonstrate profound personal strength and academic promise and desire to pursue post-secondary education."  Natasha has demonstrated true grit, constant hard work, taking the high road against adversity, while remaining a genuine, down-to-earth friend and advocate for her family and circle of friends. Natasha chose to attend Boston College in fall of 2017. 
Big Sister Lauren Mottley & Little Sister Janile
Matched since: December 2007
The Arts Award goes to Little Sister Janile nominated by her Big Sister Lauren Mottley. Janile and Lauren get creative A LOT!  They first matched through our Site-Based Mentoring program at Janile's elementary school. Lauren would bring arts and craft activities to engage her Little Sister. They made menus and cards, learned how to sew, and even made mini Christmas trees!  As Janile got older she started to watch DIY videos and they would make some of those projects during their visits; one example being cool decorated containers for Janile's locker. The two also took their creativity to the kitchen and made candy sushi from swedish fish, gummy worms and rice krispy treats!  They also enjoy tie-die, which they've done twice now during the warm weather months. 
Big Sister Shelly Pinsonneault & Little Sister Adrianna
Matched since: April 2015
The Civic Engagement Award goes to Little Sister Adrianna nominated by her Big Sister Shelly Pinsonneault. Adrianna is dedicated to her community of Chelsea. She was selected as one of eleven members (ages 13-20) to be a part of the Chelsea Youth Commission, which advises and assists the City Council, the School Committee, and the City Manager in the development of policies, programs, and delivery of services for health and welfare of youth and their families.  The Commission regularly assesses the needs of youth as individuals and community members, in order to advocate for, coordinate, and/or develop policies and programs to address these needs.In addition to the countless hours spent advising and assisting the City Council, Adrianna also dedicates her time to many other volunteer activities. She has campaigned in local elections and was a part of both the 2017 Boston Women's March and the March for our Lives in Boston in 2018. Adrianna regularly participates in the Chelsea Chase 5K, which raises funds to support the Jordan Boys & Girls Club and the Chelsea Police Relief Association. Adrianna also participated in the collection of donations for Puerto Rico after Hurricane Maria through the Chelsea Collaborative. Adrianna is an active member of the Boys & Girls Club of Chelsea, where she leads a group as a junior councilor in training. When she graduated from Excel Chelsea, she was recognized for her community outreach by being awarded the "Excellence in Leadership" scholarship. This award represented Adrianna's leadership and community involvement, specifically with her school, Chelsea Collaborative, and The Boys & Girls Club. At Excel High School, where she is currently a freshman, she was nominated and selected to be on the Young Women 19 Group.  These women organize activities for the school and community. The 19 stands for the 19th amendment – allowing women to vote. 
Big Sister Yisel Katsnelson & Little Sister Marta
Matched since: October 2014
In December of 2016, Little Sister Dyanna passed away unexpectedly at the age of 18. She had been matched with her Big Sister Candace since 2007. Dyanna exuded a quiet confidence that shone brightest when she was with those she loved, including her Big Sister. Despite challenges, Dyanna was committed to living a happy life and remained positive in the face of adversity. Most of all, she firmly believed "my sister will always be there for me." The Little Sister Dyanna Award for Courage is given to a Little Sister who has shown courage in ways both big and small.
The Little Sister Dyanna Award for Courage goes to Little Sister Marta nominated by her Big Sister Yisel Katsnelson. Yisel nominated Marta for having the courage to step outside her comfort zone this past year by joining the newspaper club at school. Yisel is confident that her experience at the newspaper club will come in handy when Marta pursues her journalism and engineering double major, which is her college goal. Both Marta and Yisel feel they are introverts, but this shows that you do not have to be an extrovert to be courageous. Marta has also maintained excellent academic performance, even as she has become more involved in extracurricular activities.
Site-Based Mentoring Awards
Big Sister Sophia Gomez & Little Sister Yaslin
Matched since: December 2014 at the Peabody School, Cambridge
The Community Builder Award goes to Little Sister Yaslin nominated by her Big Sister Sophia Gomez. Sophia shared that they were playing on the playground when Yaslin saw her friends yelling racist comments at another student. Yaslin approached them, and in a calm voice explained to them that they were being bullies. Sophia was so proud of Yaslin for standing up for what was right.
Big Sister Nathalie Diaz & Little Sister Maya
Matched since: October 2016 at the Trotter Innovation School, Dorchester 
The Leadership Award goes to Little Sister Maya nominated by her Big Sister, Nathalie Diaz. Little Sister Maya is consistently the first to communicate her feelings in thoughtful and effective ways with the support of her Big Sister Nathalie. By doing this, she has modeled courageous communication  for her peers. Maya is also the first to invite another Little Sister to join their match if her Big Sister is absent, always making sure that everyone feels welcome and is included in the fun.
Big Sister August Hochstein & Little Sister Evianee
Matched since: February 2016 at the John F. Kennedy Elementary School, Jamaica Plain 
The Healthy Risk Taker Award goes to Little Sister Evianee nominated by her Big Sister August Hochstein. Evianee kind, inclusive and has outstanding interpersonal skills. She is mature for her age and understands when other kids are being treated badly by their peers. Evianee is quick to notice and is not afraid to speak to her Big Sister about instances where she has stood up for her classmates when they are not being treated nicely by others. Evianee is quick to stand up for her friends and educate her classmates about prejudice. For example, her friend wears a hijab and kids told Evianee she should not be friends with her because of this. Evianee told the other students that there is nothing wrong with her friend wearing a hijab, and that will not make her Evianee less of a friend to the girl. 
Big Sister Rebecca Hansen & Little Sister Wendy
Matched since: December 2015 at the Josiah Quincy Elementary School, Chinatown
The STEM Award goes to Little Sister Wendy nominated by her Big Sister Rebecca Hansen. Wendy and her Big Sister say they found their "true calling" about a year ago…SLIME. When they first started meeting, Wendy wasn't very interested in math and science. In order to spark her interest in STEM and show her that science experiments can be fun, Wendy and Rebecca did several science-related activities together. Week after week Wendy would come back with new slime recipes that she wanted to try, so they have ended up making everything from fluffy slime to Oobleck to diaper slime. Their approach to the slime making process is to not follow recipes, but rather experiment with which ingredients they can add to create the desired result. Wendy and Rebecca consider themselves slime scientists, and Wendy has gained more confidence in her science and math abilities.
Big Sister Alexa Gellman & Little Sister Bea
Matched since: January 2018 at the Eliot K-8 Innovation School, North End
The Creativity Award goes to Little Sister Bea nominated by her Big Sister Alexa Gellman. Bea and Alexa always have the creative juices flowing. Just a few weeks into their match relationship they were well on our way to writing a play. This play, which is a blended fantasy/comedy/drama, challenges stereotypes and keeps the audience on their toes. In a world where snakes are good, fish are evil, and pigs are people-pleasers, things never go as planned.  Bea is wise beyond her years and has a way of creating meaningful messages through fantastical theater. The fairy in the photo is from the play Bea wrote.