Who was really BIG in Boston this year? Big Sisters! On November 9, we celebrated our Big Sisters of the Year and Community Partner of the Year. These outstanding women have gone above and beyond in bringing our mission to life. The awards were presented by Tufts Health Plan, who believes in the healthy impact all of our Big Sisters are making on their Little Sisters and our community.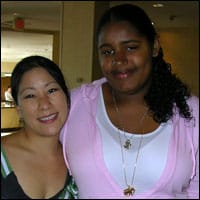 Irene Shui
Community-Based Big Sister of the Year
Irene, who lives in Jamaica Plain and is an epidemiologist for Harvard Pilgrim Health Care, has been matched with Little Sister Kiara for more than four years. In that time she's has helped the formerly shy Kiara, now 16, blossom into a more confident and outgoing young woman. Kiara lives with her mother and two brothers in the South End. Due to her eldest son's mental health and behavioral challenges, Kiara's mother feared that her daughter would get lost in the shuffle. Though Kiara's mother strives to set a positive example for her daughter, she felt a Big Sister would be able to expand Kiara's horizons in more ways. "Irene takes the possibilities that I hold out to my daughter—that women can study hard, work hard, and play hard, travel, explore, and be independent, while still in loving relationships—and shows them to her as reality," said Kiara's mother. She describes the relationship between Irene and Kiara as "positive, nurturing, and vital."
 
"Irene does so much with her life: she's working, going to school, taking care of herself and her family, she travels, has fun, and has a life, but she always has time for me," said Kiara. Irene and Kiara enjoy activities ranging from the new and different to the everyday. They take advantage of community service opportunities together, love to watch movies and cook, and often just go for a walk and chat. "We combine doing fun things with having serious conversations about our futures, school, jobs, relationships, and current events," said Irene. Through these interactions, Kiara credits her Big Sister with improving her social skills attitude toward learning "I've always been really shy, and I guess being around Irene so much has helped a lot," said Kiara. "She's helped me improve my academic success too," added Kiara. "I remember telling her at our first meeting that I loved to read and one of the first things she ever gave me was a book."
 
As to why she became a Big Sister, Irene said: "So many strong female mentors have opened doors for me in my lifetime, so I've always wanted to return the favor. I realized that some girls may not be lucky enough to have the opportunities I did while growing up and may lack access to strong women to be their mentors." According to Kiara's mother, Irene's simple, consistent presence in her daughter's life has been the key to opening up Kiara's world. She said: "I have always pushed Kiara to achieve. I think Irene helps her to remember what all the hard work is for."
Jessica Roy
Community-Based Big Sister of the Year
Jessica, who lives in Natick and is a trader at The Baupost Group, has been matched with Little Sister Janelle for more than five years. Janelle lives with her parents and her twin brother in Boston's South End. Before she was matched with her Big Sister, Janelle felt insecure when kids at school teased her because of her weight. The teasing made it difficult for Janelle to concentrate on her schoolwork. Janelle's mother was pained to see her daughter's feelings hurt and upset that it was affecting her academic abilities. She felt that a caring adult outside the family who could broaden her daughter's horizons and spend time with her on a one-to-one basis would benefit Janelle
 
Now at 13, Janelle has become an outgoing, self-assured young woman well-equipped to enter her teen years. "I'm seeing a new Janelle, and overall I like what I am seeing," said her mother. Janelle's friendship with Jessica has given her the confidence to make healthy decisions and do better in school. Janelle's mother reports that she is able to pick good friends and though she was once a struggling student, her grades now are mostly A's and B's. "Jessica makes me feel seriously good," said Janelle. "I was overweight and she helped me with healthier eating and exercise. The important thing about this was that I never felt criticized by her."
 
Jessica has witnessed the growth in her Little Sister's confidence as well. "When we first met she was a little shy and I would have to ask her things a few times before she would answer, or she would hesitate to say something. Now we compete for air time!" laughed Jessica. In addition to enjoying walks together, Jessica and Janelle love attending sporting events like Red Sox and Celtics games, and going to the movies. Jessica has also made a concerted effort to include Janelle in every stage of her life. When planning her wedding, Jessica asked her Little Sister for input. When Jessica recently had her first child, she continued to make time for Janelle. "She didn't even take time off from me!" exclaimed Janelle. Jessica has made it clear to her Little Sister that she will always be an important part of her life, even joking that they will one day be little old ladies together. "I always know that Jessica thinks I'm terrific," said Janelle. "She supports me and helps me be a better me!"
Beth Favaloro
School-Based Big Sister of the Year
Beth, who lives in Charlestown and is a managing director at Putnam Investments, has been matched with Little Sister Cindy for more than four years. Though Cindy, who is now in sixth grade, recently transitioned from the Josiah Quincy Elementary School in Chinatown to the Josiah Quincy Upper School, Beth continued to make Cindy a priority. "It never crossed my mind not to come back each year," said Beth.
 
Beth has always been full of ideas, often creating lists with Cindy at the beginning of the year that include activities they would like to accomplish. These activities have ranged from takings pictures and making collages, to painting their nails, making bracelets, and playing games. "I most enjoy when we talk about what's happening in our lives," said Cindy. Beth has consistently been open to the support of her Big Sister social worker and advocated for more Big and Little Sister matches at the school, notifying her social worker of girls who expressed an interest in the program.
 
Beth has nurtured her Little Sister's confidence by being open and listening, which has allowed Cindy to shed her once intensely shy demeanor and become a gregarious young woman. "It's been rewarding to see how outgoing Cindy has become over the years," said Beth. "Now she always says hi to her teachers or friends and she has a story for me about who they are." When Cindy began insisting that Beth call her by her formal Chinese name, Chao, it was clear that the two had reached a turning point where Cindy was letting Beth into her personal life. "I feel very special when I'm with Beth," said Cindy. "She is a caring person and she likes me for who I am." After two years of being matched with Beth, Cindy's teacher reported that Cindy had become more trusting of others, was better able to express herself, and seemed more confident. Beth's friendship has been woven into the fabric of Cindy's life at school. As Cindy put it, "Awesome Big Sisters are hard to replace!"
Liz Micheels
Group Mentoring Big Sister of the Year
Big Sister's Group Mentoring program, TEAM (Team Enhanced Approach to Mentoring), runs throughout the academic year at middle schools in and around Boston. In this program, specifically designed to meet the developmental needs of adolescent girls, a group of Big Sisters engages in structured activities and discussions with a group of Little Sisters under the leadership of a Big Sister social worker or Master of Social Work level intern. While many TEAM Big Sisters may participate in the program for a couple of years, Liz has gone above and beyond in her commitment by volunteering as a TEAM Big Sister for seven years. She has participated in groups at the F.A. Day Middle school in Newtonville, the Andrew Peabody School in Cambridge, and most recently, the West End House Boys & Girls Club in Allston.
 
Liz, who lives in Newton, has been a life-long volunteer, working with organizations that promote the healthy development of adolescents and women's reproductive health. When she heard about Big Sister, she knew it would be the perfect opportunity for her to follow her passion. Not only that, but as the mother of two grown boys, Liz said simply, "I missed being with girls!"
 
Liz is dedicated to the work of Big Sister. She cares for the girls and strives to make them feel included in the group. She is attentive to the simple details like bringing a healthy snack for everyone and to the larger issues, such as sources of conflict among the girls. Even when girls question her authority and motives, Liz is able to understand this and accept that the girls may be challenging her for unspoken reasons. Most importantly, she never gives up on them. "Even when the girls seem tough at first, I love the process of getting to know them, seeing how smart and caring they really are," said Liz. She remembers details about the girls' lives, as well as her fellow Big Sisters, and makes a point to check in with each person. Liz consistently brings a positive attitude to the group that is contagious and genuine.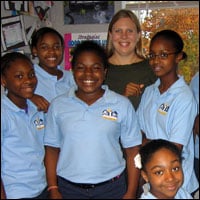 Jessica Dugan
Director of Community & Business Partnerships, Boston Renaissance Charter School
Community Partner of the Year
Jessica has been the driving force behind Big Sister Association's partnership with the Boston Renaissance Charter School since 2004. In the past five years, we have served more than60 girls through our School-Based Mentoring program and 140 girls through our Group Mentoring programs at the school.  Jessica has been a consistent, engaged site contact who believes strongly in our mission as an asset to the girls in her school. She has enthusiastically resolved challenges involving both space and scheduling to accommodate Big Sister's programs at the Renaissance. Through her leadership, our programs have become became an integrated component of the Renaissance's afterschool program.
 
"Big Sister's programs help the Renaissance School support the social and emotional development of our students. This is a core part of our mission as we work to eliminate barriers to our student's academic success," said Jessica. "Girls gain skills in leadership, healthy decision-making, and social responsibility, with the added benefit of developing a relationship with a female mentor." Jessica advocated for the continuation of our partnership when the Renaissance made its transition from downtown Boston to Hyde Park this year. "Because time is designated for this during the day, concerns are addressed appropriately and acknowledged as important rather than dismissed," said Jessica. "When these needs have been acknowledged, the girls can then be more easily encouraged to move on and focus during core academic time." Due to Jessica's support, we will continue to partner with the school to provide Group Mentoring for the girls in the 2010-2011 academic year.