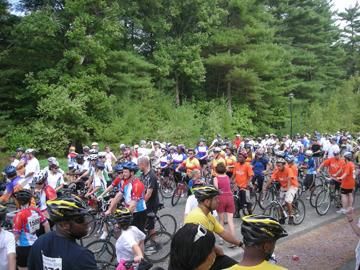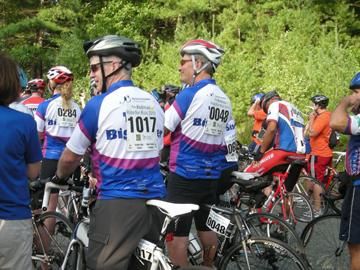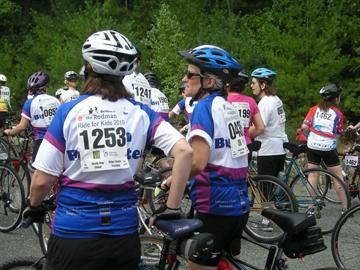 The unseasonably hot and sunny weather on Saturday, September 25, brought new meaning to the term "sweat equity" for members of Team Big Sister, but that didn't keep them from giving it their all in the Rodman Ride for Kids. Our team was proud to be represented in each race—from our brave 100-mile rider to our enthusiastic 25-milers—and finish strong in both riding and fundraising. Team Big Sister riders have raised nearly $65,000…and they are still going! Tim O'Brien, team captain Lisa Scannell, and Peter Reinhart are this year's top fundraisers so far, each of whom have at least doubled their $1,000 goal. Fundraising efforts will continue throughout October. Click Here* if you would like to make a donation to Team Big Sister or your favorite rider.  All money raised will also receive a matching gift of up to 10% from the Rodman Ride for Kids.
 
In addition to meeting and beating the team's fundraising goal, highlights of the day included 25-miler, Judy Keefe, finishing her ride in one hour, our Board of Directors chair, Tim O'Brien, and president, Max Bardeen, taking on the 50-mile route, and having six current Big Sisters among our riders.  "I wanted to give back to an organization that, by matching and supporting me and my Little Sister Jazmyne, helped me to become a better person just by knowing her. Raising money through the Ride is helping to make more Big and Little Sister matches like mine!" said four-time rider and Big Sister of more than five years, Tamara Johnson.  In lieu of hopping on a bike, some of our virtual riders got creative this year, pledging driving miles in our Big for a Day program that serves girls on our wait list.
 
BIG thanks to those who volunteered for us at water stops and cheering stations, and especially to our riders and virtual riders who brought us to our fundraising goal and beyond!  We look forward to hitting the road with you again next year in support of inspiring our girls and transforming our community.
100-miler
Paulette Kelly
 
50-milers
Nicole Cushion
Maxwell Bardeen
Tamara Johnson
Timothy O'Brien
Amy Ross
 
25-milers
Gregory Corrado
Jane Deery 
Colleen Fitzpatrick
Pattie Garrahy-Robertson
Alissa Greif
Julia Horvitz
Abigail Ingalls
Diane Ivey
Judy Keefe
Sven Meier
Hannah Newton
Dalena Nguyen
Dan Ovadia 
James Parton
Charles Phillips
Peter Reinhart
Claudia Rodriguez
Jen Salman
Kelly Samoiloff
Lisa Scannell
 
Virtual Riders
Essence Arzu
Alexis Bulkley
Jill Callahan
Terri Campbell
Ryan Harvey
Ted Juliano
Aileen Keaney
Colleen Kenney
Suzanne Lieb
Robin Loporchio
Lynne O'Connor 
Deborah Re
Chiquita Rice
Mia Roberts
Caitlin Sanborn DeSoye
Kathleen Wallace
Anne Marie Weber
Lesley White-Buefort
* Please note that internet browsers other than Internet Explorer may not support this link, but you can mail donations to Big Sister Association of Greater Boston, 161 Massachusetts Avenue, Boston, MA 02115. Make sure to write Rodman Ride (and a specific rider's name if you wish) in the memo line.