On January 15, three of our Little Sisters were recognized by Harvard Pilgrim Health Care Foundation at its 11th Annual Dr. Martin Luther King, Jr. Creative Expressions Contest. The girls were connected to the opportunity through our Sister Scholars program, in which our Teen Coordinator works with Little Sisters to provide scholarship resources. Each Little Sister who won the Creative Expressions Contest was awarded a $500 scholarship. The applicants were asked to respond in their own way to the question: "How are you using your voice to be a disruptor for good?" Below are their winning submissions.
Little Sister Adrianna's essay:
I was raised in Chelsea, which is a small city where I like to call home. We may be a small city, but we are full of amazing people. My people. During this pandemic the city was labeled a hotspot and was particularly hit hard. Because of the cost of housing, there can be up to twelve people living in a 3-bedroom apartment. That partially explains why our COVID-19 cases have and continue to be on the rise.
When Covid cases began to increase in our city, I started volunteering with my mom by delivering food boxes to homes that have Covid or have been affected by Covid. My aunt Gladys, who runs a community service agency called the Chelsea Collaborative, started a food pantry out of her front porch giving food out to the people of Chelsea. Over the spring and summer, I spent most of my mornings in the senior center preparing boxes of food for different sized families and making labels to get picked up and dropped off. This made me feel so good inside knowing I was helping people put food on the tables.
One day they were chosen to be part of a documentary being produced for Vice. Of course since we are in a pandemic a camera crew could not fly out here and record. I was basically asked to be the camera crew to record all the footage from my Iphone. It was a super cool experience. I was one of the only youth in my city that was on the frontlines in the city's response to the pandemic.
Unfortunately, I have asthma and I am at high risk for contracting the virus so I had to take extra precautions. But what mattered to me most was that I was going to make a difference here. As I write this, I am going to help another family today. I was so grateful for the opportunity to share the story of the Chelsea Collaborative to show more people what we are doing and what we are capable of.
Being on the frontlines in my city really changed my view on how I live. I always grew up with food on the table and a roof over my head. The long food lines with more than 1,000 people some days have shown me that you can't take what you have for granted.   At any moment, everything we know could be taken away. I have had to answer the door at the pantry to people crying through 24 hour eviction notices. These things just kept showing me to cherish what you have and that we are all fighting through the storm, but we are not all in the same boat. Some of us are in yachts and some of us are in the water drowning.
While we were helping others, covid hit my family specifically when my aunt tested positive. It really put everything into perspective. This week in December my house has been in a rough spot. My mom tested positive, and is trying to quarantine in our small house, with my dad, me, and my three siblings. This not only surprised us but it put us in rough shape. She wasn't working so our bills were already falling behind. Suddenly, the tables had turned and we too received a food box from the pantry.
I never ever had to worry about where my next meal was coming from in my life. It really made me sit back and really appreciate all that I have because I have access to healthcare, to employment, to transportation and enough money to go to the store and buy groceries. With this being said what I'm really taking away from this experience is to appreciate what you have. Where it may seem that you have little, others are begging to live life in your shoes.
Little Sister Amya's artwork: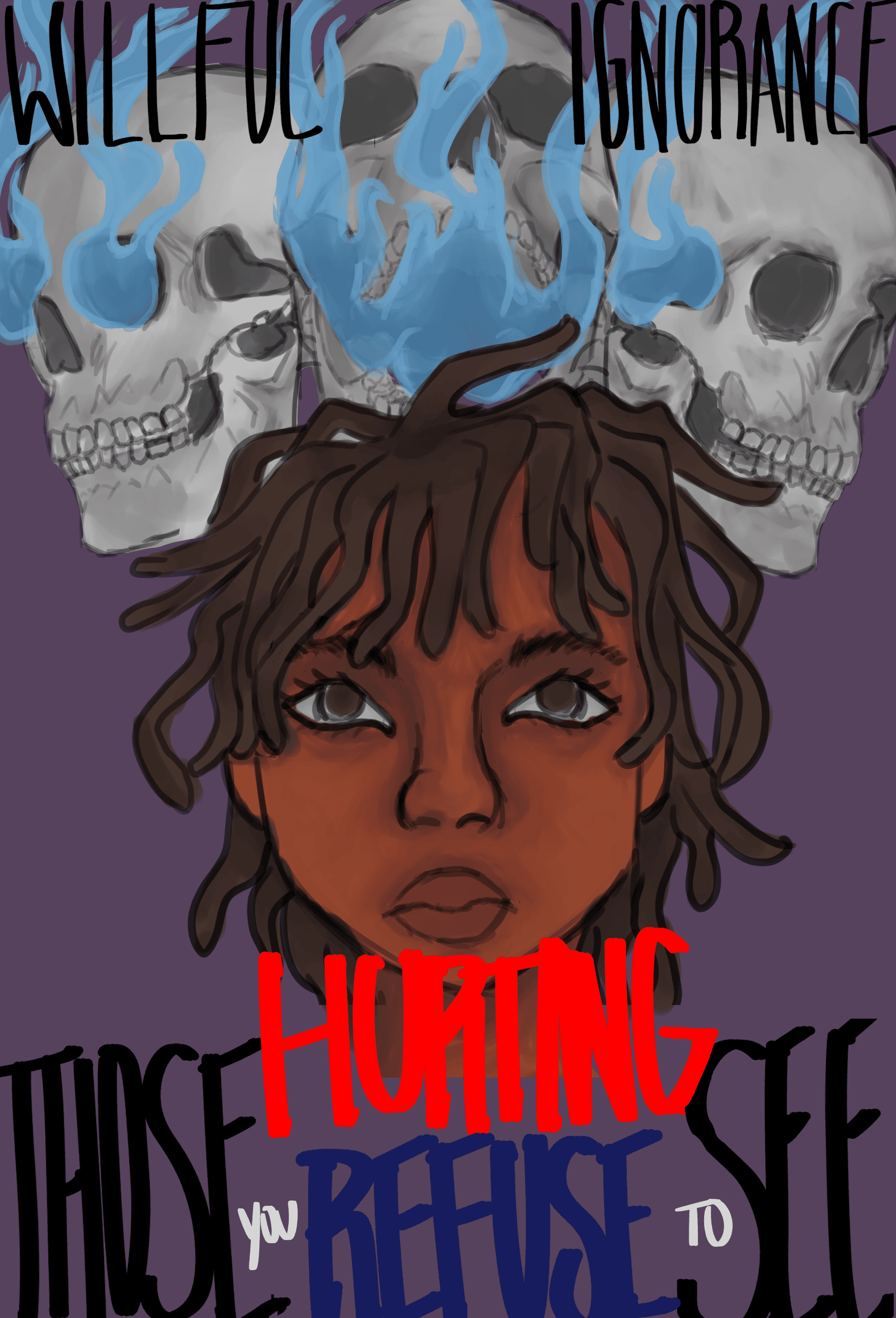 Little Sister Amara's essay:
Today and tomorrow are not promised. Not just because of old age and sickness but because of the color of your skin. Justice means that everyone should get the same treatment and be treated equal amongst each other. But that is not always the case. We cannot change someone's behavior, but we hope they will change themselves.
Life is too short to be rude to someone. We should spend our days making new friends and doing what we love to do. Use your voice to help this world change. I go to a predominantly white school but every day I get up and go to school because the color of my skin should not affect my education. We deserve to be taught about the great African Americans who have lived before us and how they changed how we live today.
I have used my voice as a disruptor for good on numerous occasions. One of those times was when I gave a speech to my entire 5th grade about the pros and cons of being a Black METCO student at a predominantly White school. Another time was when I gave a presentation to the school principal and a few teachers on Black History. Also, along with a few other METCO students, during morning announcements we read quotes and stated inventions that were made by African Americans. 
One thing that I hope you learn from this is that Whites, Blacks, Hispanics, Asians, Indians, Native Americans, and any other underrepresented group of people should be able to walk around and not be scared of being discriminated against.
I want people of my age or younger to know we are the future, and we will make decisions that will affect the next generation. We have the power to make a change. We all just need to know that who you are and what you have done is the past and the past is what leads to the future. So, when you see someone on the street do not look down upon them. Because we have to build each other up before we can change the world.