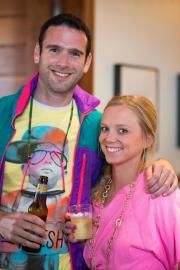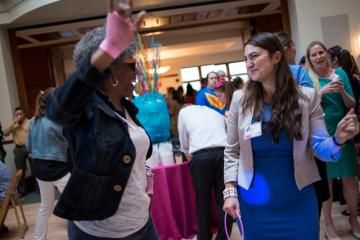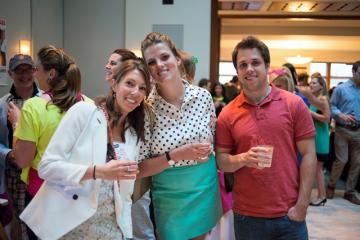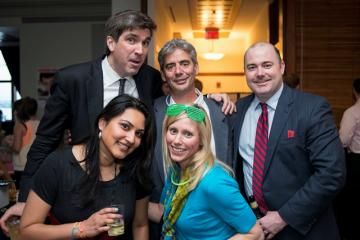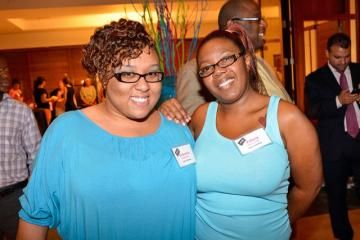 A summer rain storm couldn't keep Boston's young professionals from coming out to support Big Sister Association on June 7.  The clouds cleared just in time to set the perfect scene for the Urban Block Party… Gone 80's, hosted by Big Sister's Young Professional Board.  Guests got down and gave back, to the tune of nearly $30,000.  Proceeds will benefit our mentoring programs for girls through Team Big Sister in the Rodman Ride for Kids.
 
Boston's waterfront and Mother Nature teamed up to provide the backdrop for celebrating summer in the city.  More than 150 young professionals enjoyed a delicious spread by East Meets West Catering as they watched the ships sail across the harbor from the patio of the Exchange Conference Center.  As the sun set, Fast Times heated up the party while guests tore it up on the dance floor.  Everyone enjoyed libations provided by Sam Adams, Berkshire Mountain Distillers, and RIPE Bar Juice and cooled off with trips to the raffle and silent auction tables.  Lucky winners went home with gift certificates to Boston's hottest restaurants, Aerosmith tickets, a private vineyard tour and tasting, Red Sox and BC Football tickets, a Nantucket getaway, and more!  To commemorate the evening, groups of friends donned 80's gear, packed into a photo booth, and took home pictures complements of Photo Fun Box.
 
Young Professional Board member, Jamie Charles, rounded out the evening by sharing a friend's story.  "My friend, a Big Sister, asked her Little Sister if she could do more for her than visiting and taking her out each week," he said. "Her Little explained that, though she may feel like spending time with her is not enough, it means the world to her and is exactly what she needs."  He closed by explaining to the crowd the importance of giving each girl the opportunity to have a supportive, caring role model in her life.
 
Special thanks to Urban Block Party sponsors Boston.com, eSec Lending, Patrick Carney Foundation, Vistaprint, and Yozell Associates.  We would also like to thank East Meets West Catering, Boston Beer Company, Berkshire Mountain Distillers, RIPE Bar Juice and Photo Fun Box.  We appreciate all those who supported the event and look forward to even more fun at the next young professionals' event!