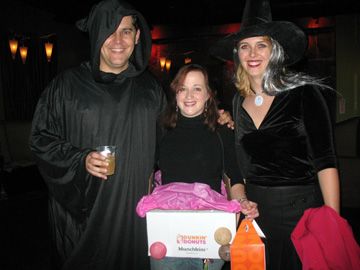 There were no tricks, just plenty of treats on October 31, when Big Sister's Young Professional Group hosted the 3rd annual Wicked Big Pahty at Ned Devine's. The Halloween-themed soiree brought in more than $5,000, which will go toward our mentoring programs for girls. The party also brought in some creative costumes, ranging from 80's icons Rainbow Bright, Hulk Hogan and Mr. T to the more culinary-themed pigs in a blanket and even a box of Dunkin' Donuts munchkins! 
 
With all the unique costumes it was difficult for the special guest judges, the Celtics dancers, to choose the winners. In the end, "Scariest" went to a baby boy sporting some 5 o'clock shadow, "Best Impersonation" went to Mr. T, "Funniest" went to a turkey and "Most Creative" went to Hulk Hogan. 
 
In addition to all the characters at Wicked Big Pahty, many of our Big Sisters were in attendance as well, and spent the evening enjoying the festivities while talking with other young professionals about being a mentor. They shared stories of all the fun activities they do with their Little Sisters and the good feeling they get from having a positive impact on a girl's life. Several of the guests left wanting to know how they could get more involved with Big Sister!
 
Special thanks are in order to those who are already involved in a "big" way—the Wicked Big Pahty co-chairs, Ryan Krouskop and Claudia Silva, as well as the entire Young Professional Group, who planned the spooktacular event. We also want to thank all those who attended Wicked Big Pahty, and whose support will help us serve nearly 3,000 girls in 2007.
 
And if you thought Wicked Big Pahty was a wicked good time, then keep your calendars open for our next Young Professional Group event happening in January 2008!