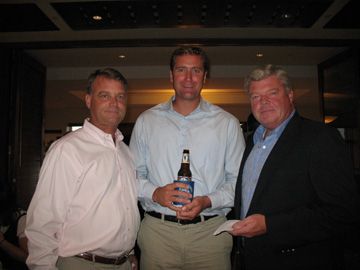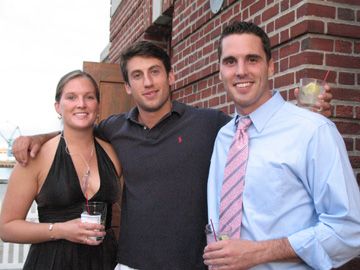 What better way to round out the summer than a little sun, fun and seafood? That's just what Big Sister did on Thursday, August 23, as our Young Professional Group hosted their first event, Urban Beach Party. The festivities were held at the Exchange Conference Center on the historic Fish Pier in Boston, where guests took in picturesque views of Boston Harbor, enjoyed a laidback beach vibe and nibbled on mouthwatering munchies prepared by Legal Sea Foods.  Thanks to the generousity of those who attended Urban Beach Party, the event raised $14,000 to support Big Sister's mentoring programs for Greater Boston's girls! 
 
Of course all the fun in the sun (and the moon!) would not have been possible without the efforts of the Urban Beach Party co-chairs, Chris Lawrence and Megan Leavy. Chris and Megan are both members of Big Sister's new Young Professional Board, which oversees the Young Professional Group. Big Sister welcomed members of our first Young Professional Board at our Annual Meeting in May. The Board was established as a way for us to connect with Greater Boston's young professionals who are committed to the agency's mission and who want to help spread the word about our work and the girls we serve. The members of our Young Professional Board will draw on their diverse careers, experiences and community affiliations to share their ideas with Big Sister's Board of Directors and staff on how to engage other young professionals in Greater Boston. The members of the Young Professional Board include:
 
JoseAlberto Betances, Pediatrician, Boston Medical Center
Donovan Brown, Foreign Investment Registration Team, Brown Brothers Harriman
Kevin Bruno, Auditor, PricewaterhouseCoopers
Lauren Corduck, Corporate Resource Development Consultant, NeighborWorks America
Chastity Harmon, Senior Staffing Specialist, Bose Corporation
Ryan Krouskop, Consultant, Deloitte
Chris Lawrence, Associate, Meredith & Grew
Megan Leavy, Executive Assistant to Managing Partner & Client Event Coordinator, Liberty Square Asset Management
Sven Meier, Technical Lead of Engineering & Technology Services, IBM
Ashlee Piper, Senior Policy Advisory, the Governor's Executive
Office for Administration and Finance
Claudia Silva, Account Manager, Argus
 
"We are thrilled to welcome such a dynamic group of young professionals who lend their support to Big Sister," said Deborah Re, Big Sister's Chief Executive Officer.  "They are a valuable and growing resource in Greater Boston's philanthropic community."
In addition to supporting Big Sister's Board of Directors and staff on all things related to young professionals, these 11 men and women will also oversee the Young Professional Group, which is composed of Big Sisters, community volunteers and friends of Young Professional Board members, who will plan all of Big Sister's Young Professional events-such as Wicked Big Pahty, our Halloween-themed fundraiser happening on October 31!
 
Big Sister would like to thank everyone who attended Urban Beach Party – your support will enable us to put a supportive, caring adult female mentor and friend in the lives Greater Boston's girls. We would also like to say a big thank you to our Urban Beach Party co-chairs, Chris Lawrence and Megan Leavy, our main sponsor, Legal Sea Foods, as well as Harpoon Brewery, Barefoot Wines, Futurebrands LLC, Franchi Management Group, Innovative Music Group and Lawrence Carlin Insurance. We look forward to expanding our young professional circle even more at Wicked Big Pahty in October!